Bamboo Airways sponsors National Cup
2019-04-08 08:52:02
Bamboo Airways has become the official sponsor of the National Cup football tournament in 2019.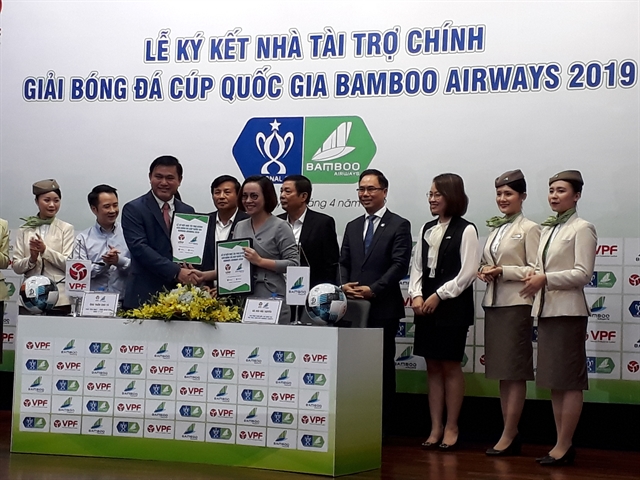 The competition will be called the Bamboo Airways National Cup, said tournament organisers at a press briefing on Thursday in Hà Nội.
The event began on March 29 and will close in October with the participation of 26 clubs playing under a knockout format.
The first round over the weekend was full of surprise, with four teams from the V.League 2 knocking out V.League 1 sides to advance to the next round on June 26-30.
The winner of the tournament will receive VNĐ1 billion (US$43,100) and represent Việt Nam in the Asian Football Confederation Cup next year.
All matches of the tournament will be live aired online and on television.
"With the support from Bamboo Airways together, with strong effort of participating clubs and care of local fans we believe that this year's National Cup will be attractive and high quality," said Trần Anh Tú, general secretary of the Việt Nam Professional Football Company, which manages local leagues.
"It is our honour to be the main sponsor of the National Cup. We hope that our co-operation will be a strong launch-pad for national football," said Deputy Chairman of the Bamboo Airways Đặng Tất Thắng yesterday.
Defending champions Becamex Bình Dương and Sông Lam Nghệ An are the two most successful teams in the competition's history, with three victories each.
Source : VNS