Chonburi ends Thái Sơn Nam's hopes of title
2017-07-30 09:49:39
Thái Sơn Nam's campaign to win their first continental title ended yesterday after their 0-6 defeat at the hands of the favourites, Bluewave Chonburi, in the AFC Futsal Club Championship semi-finals in HCM City.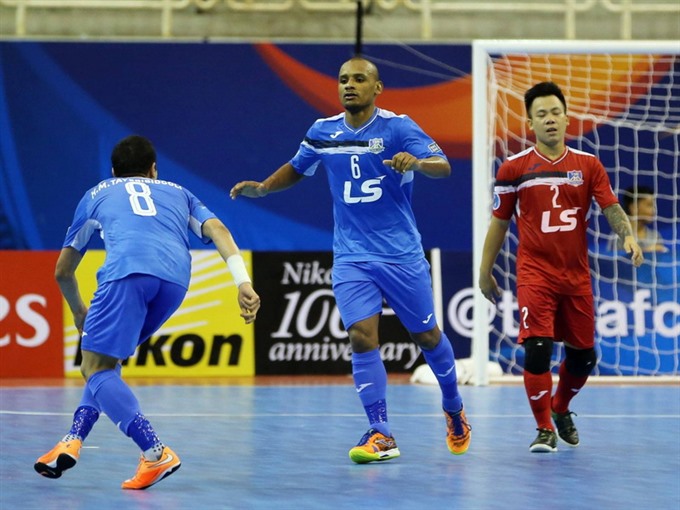 Thái Sơn Nam were stopped in the semi-finals of the AFC Futsal Club Championship after losing to Chonburi 0-6 yesterday in HCM City. — Photo vietnamplus.vn
This was the second time that the Vietnamese club lost in the semi-finals, after their first last four placing in 2015.
Their Spanish coach, Miguel Rodrigo, is familiar with Thai football after working for many years in the country, but he failed to inspire the host team to score even a single goal, with the scores still tied three minutes after kick-off.
Jirawat Sornwichian stole the ball from Phùng Trọng Luân's mistake, and shot a right-footed effort past goalkeeper Nguyễn Văn Huy to the far corner of the net.
Kritsada Wongkaeo almost made it 0-2 just minutes later, but his low shot was denied by Huy's left post.
Huy, who got a clean sheet in the semi-final match against Nafit Al Wasat of Iraq, continued his good form to stop Rudimar Venancio from scoring, after he tried to capitalise on the rebound.
Thái Sơn Nam, with the strong support of over 4,000 fans, raised their game and tried to level the scores.
Vũ Xuân Du slipped away from three Chonburi defenders before directing a back-heel to Nguyễn Minh Trí in the penalty box, but goalkeeper Katawut Hankampa did just enough to deny the home side in the 10th minute.
Two minutes later, Thái Sơn Nam almost found the equaliser when Hossein Tayebibidgoli shot a powerful attempt at the goal, but Hankampa once again made the save.
However, the rest of the game did not go as planned for Thái Sơn Nam.
Chonburi were a much stronger team than any of their previous opponents, and the Thais made it 0-2 just seconds before the end of the first half, through a goal from Sorasak Phoonjungreed.
The second half saw the home side increasing the tempo in search of their opener, but they became more vulnerable to Chonburi's dangerous counter-attacks.
Apiwat Chaemcharoen and Kritsada threatened Huy's goal time and again.
However, his heroic efforts could not last the entire game. Huy conceded the third goal when Jirawat netted with a calm finish in the 26th minute.
Jirawat then sealed his hat-trick three minutes later.
With nothing to lose, the home side then activated their power play, but without success.
Kritsada slotted the ball into an empty net in the 32nd minute, and Jetsada added another in the closing moments of the match.
"There was no game today. It was adults versus boys. We started the game very nervous, nobody wanted to think or make a decision and everyone was playing with their feelings and emotions. It is important for us to learn from this experience. We still have a chance to finish third so we need to bounce back from this," Rodrigo said after the game, while wishing Chonburi all the best in the finals.
Chonburi player Rakphol Sainetgnam said on the-afc.com, "From the start we knew that it was going to be a tough game, because Việt Nam and Thailand have a long-standing and fierce rivalry. They know us well, but in the end, I believe I was lucky in a way, because I know Miguel well, and I knew the style that he was going to play."
"I am very happy with the way we played, our tactics were spot on and we were able to transfer all our hard work from training to the game," he added.
Chonburi will play their third final against Sanaye Giti Pasand of Iran. They previously won the title in 2013 in Japan, and came second in China a year later.
Thái Sơn Nam will compete for the bronze medal against Al Rayyan Sport Club of Qatar tomorrow.
Source : http://vietnamnews.vn