Early end as Việt Nam U19 draws with Thailand U19
2018-07-03 10:55:26
The Việt Nam U19 team struggled to a draw with their rival, defending champion U19 Thailand in the 17th round of the South East Asia (SEA) V-League 2018 which took placed in Indonesia yesterday.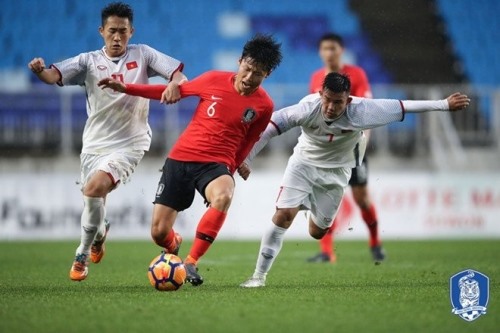 In the first half, head coach Hoàng Anh Tuấn instructed his team to strike in a coherent way. Yet, many chances were wasted by the whole team.
After being suppressed in the first minutes, the team made repeat attacks towards their rival's net. However, a promising shot from Văn Tới of Việt Nam sailed over the Thailand's crossbar.
Việt Nam U19 continued to create many dangerous situations, forcing Thailand onto the defensive after 20 minutes. Ten minutes later, Văn Nam had another chance from a corner but failed to score.
Later, Hữu Thắng's shot missed the target.
In the second half, Việt Nam U19 had two chances to confront Thailand's goalkeeper from just 2-3m in the 68th and 75th minutes, but again failed to score.
In the last minutes of the game, the goalkeeper remained strong to keep the score at 0-0.
Although entering the match with more advantages, Việt Nam U19 failed to capitalise and left the pitch with 1 point.
In the next match, they will meet the Philippines U19 team on July 3.
Source : VNS