Hà Nội FC enter final of AFC Cup's ASEAN Zone
2019-06-26 16:17:48
Hà Nội FC defeated Ceres Negros of the Philippines 2-1 in the second leg of the AFC Cup's ASEAN Zonal semi-finals to book a place in the 2019 AFC Cup ASEAN Zonal Final with a 3-2 aggregate win.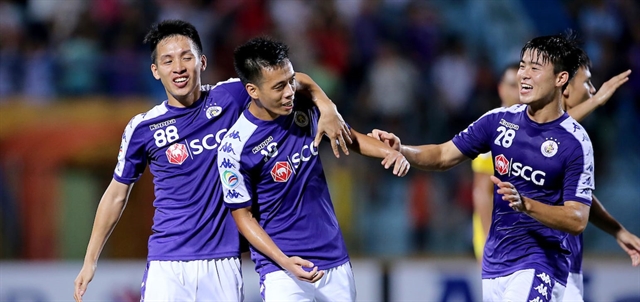 The game was held at Hàng Đẫy Stadium in Hà Nội yesterday.
Earlier, Hà Nội drew 1-1 with Ceres Negros in Bacolod in the first leg.
The two sides played carefully from the opening whistle. The visiting side needed a win to earn the right to move the event's next phase, while Việt Nam only needed a goalless draw to secure their berth in the final due to the away goals rule.
The hosts played slowly in the midfield to strain their rival's line-up before completing long passes to striker Pape Omar.
Omar then had a chance to face goalie Roland Muller of Ceres Negros but he couldn't shoot due to the close mark of a midfielder from the visiting side.
In the 18th minute, Việt Nam had another chance. Following confusion in the penalty area of Ceres Negros, the ball came to Đỗ Hùng Dũng but he struck the crossbar, giving Ceres Negros a warning of what was to come.
During the first half, the capital team controlled the game, created many chances but they didn't break the defence line of the visiting side.
Midfielder Nguyễn Quang Hải received special attention from the defenders of Ceres Negros. The star of Việt Nam's team didn't have space to show his skills.
Before the first half closed, goalie Muller came under increasing pressure, but managed to keep his team in the game.
After the break, the visiting side fought back strongly to seek goals.
However, it was Việt Nam who had the opener.
In the 60th minute, Omar played striker and captain Nguyễn Văn Quyết in to score the opening goal for Việt Nam.
Just five minutes later, Quyết scored a screamer to double the home side's lead.
Stephan Schrock then seemed to narrow the gap for Ceres Negros as he got a free kick but it lacked accuracy.
However, Ceres Negros' efforts paid off with a goal from Dennis Villanueva in the 86th minute.
The pressure on the Vietnamese side increased in the dying minutes, however, their defence played every effectively to block all efforts of their rival.
Hà Nội's rival in the AFC Cup's ASEAN Zonal finals will be decided after the second leg of AFC Cup's ASEAN Zonal semi-finals between Makassar and Bình Dương today.
In the first leg at home, Bình Dương defeated Makassar 1-0.
Source : VNS