Hà Nội lift V.League 1's trophy
2018-10-05 10:25:17
Champions Hà Nội beat bottom-ranked team Cần Thơ 3-0 in the penultimate round to officially lift the trophy of the V.League 1.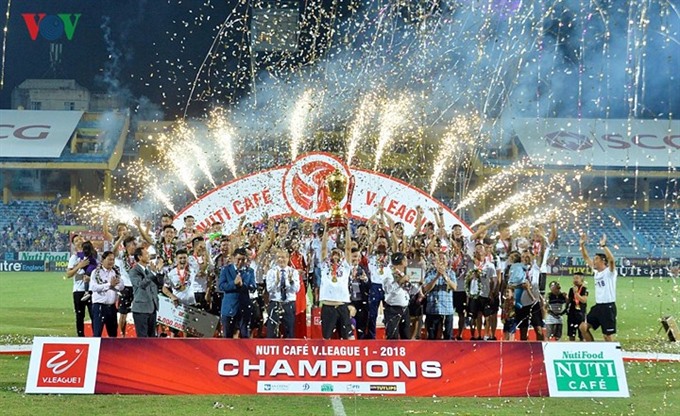 The game was held at Hàng Đẫy Stadium in Hà Nội.
Nguyễn Văn Quyết, Hoàng Vũ Samson and Oseni Ganiyu Bolayi helped the capital team bring home the 20th win in this year's national premiere league.
Earlier, Hà Nội won the national premier league with five rounds to go.
It is the fourth time Hà Nội have triumphed in the national top flight league, after successes in 2010, 2013 and 2016.
In contrast with the joy of Hà Nội, Cần Thơ are in relegation danger as Nam Định are three points ahead of Cần Thơ in the race to stay in the league.
Yesterday, Nam Định, ranked in 13th place, claimed an important 2-1 victory against Becamex Bình Dương to raise their hopes of continuing to compete in the national top-flight league next year.
Nam Định will face Cần Thơ for the life-and-death match in the last round on October 6.
The race for the event's second place was also hot as FLC Thanh Hóa levelled the point with Sanna Khánh Hòa. The two sides have the same number of points (43) but Thanh Hóa rank second because of goal difference. Thanh Hóa beat HCM City 2-1, while Khánh Hòa lost to Sông Lam Nghệ An 1-2 yesterday.
FLC Thanh Hóa will duel with Sanna Khánh Hòa in the last round to decide the runners-up.
At Pleiku Stadium in the Central Highlands Province of Gia Lai, Hoàng Anh Gia Lai (HAGL) tied goalless with the northern port city Hải Phòng.
The mountainous football team HAGL created many chances to have the opener but they couldn't beat goalie Đặng Văn Lâm.
This draw means HAGL still stands at seventh place in the rankings with 31 points. They are sure to miss the target of ranking in the top five.
Elsewhere, Quảng Ninh Coal lost to Sài Gòn 1-2 and Quảng Nam drew with Đà Nẵng 2-2.
Source : VNS