Hà Nội still on top despite draw
2019-03-14 09:09:58
Hà Nội FC drew and Becamex Bình Dương lost in the second round of group stage matches in the Asian Football Confederation (AFC) Cup yesterday.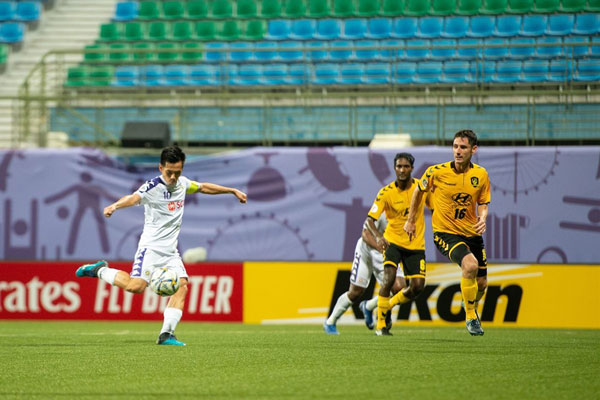 V.League champions Hà Nội unexpectedly failed to beat hosts Tampines Rovers in Singapore in Group F, drawing 1-1.
After a comprehensive 10-0 win over Cambodian side Nagaworld in the first match, Hà Nội looked set for another victory despite playing away from home.
The visitors quickly set the pace of the match and saw chances fall to the feet of Ganiyu Oseni and captain Nguyễn Văn Quyết in the first half, which nevertheless finished scoreless. The hosts also nearly found the net when Daniel Bennett's header came off the woodwork.
After several more missed chances, Pape Omar Faye opened the scoring the for visiting side in the 62nd minute, taking advantage of goalkeeper Syazwan Buhari's poor positioning to pass the ball into an empty net.
But Jordan Webb equalised with 13 minutes left to play after breaking Hà Nội's off-side trap. He slotted his finish past goalkeeper Nguyễn Văn Công and into the bottom left corner of the goal.
With one win and one draw, Hà Nội maintained its group lead ahead of Tampines Rovers on goal difference.
In the group's other match, Nagaworld defeated Myanmar's Yangon United 2-1 to move into third place.
Hà Nội will next host Yangon United on April 2, while Tampines Rovers will travel to Phnom Penh to take on Nagaworld on the same day.
In Group G, Bienvenido Maranon scored a hat trick for Ceres Negros of the Philippines to beat Becamex Bình Dương 3-1 at the Gò Đậu Stadium.
Bình Dương goalkeeper Bùi Tấn Trường made a mistake in his penalty area that saw him dispossessed by Maranon, who tapped the ball into an empty net in the 26th minute.
The Vietnamese side tried to respond with attempts from Victor Mansaray, Tô Văn Vũ and Đinh Hoàng Max but failed to find an equalizer in the first half.
Former national team striker Nguyễn Anh Đức was put on the field as the hosts put more pressure on Ceres Negros. They finally made it 1-1 in the 72nd minute when Wander Luiz scored a brilliant goal off the volley.
It did not take long for the visitors to score their second goal, as Stephan Schrock played in a cross from the left for Maranon to finish in the 74th minute. He completed his hat trick in the 78th minute off an assist from OJ Porteria.
Ceres Negros are on top of the group with six points. Bình Dương dropped to third with only one point. Indonesian side Persija Jakarta are in second after beating Shan United of Myanmar 3-1 yesterday.
Bình Dương will next meet Shan United on April 3.
Source : VNS