Hà Nội victory takes them back into top spot
2019-04-08 08:55:18
Hà Nội FC moved back to the top of the V.League after an impressive 4-0 victory over Sông Lam Nghệ An.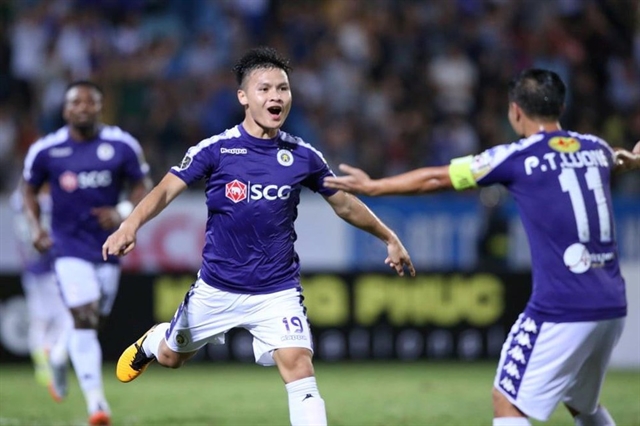 The match saw national midfielder Nguyễn Quang Hải find the net again after a goal-scoring drought this season.
After a disappointing AFC Cup loss last week by a single goal against Yangon United, this was a good chance for Hà Nội's strikers to rediscover they shooting skills.
In the first 45 minutes the hosts had five good chances to score, and managed to find the back of the net three times.
Captain Phạm Thành Lương tested visiting side goalkeeper Nguyên Mạnh with a strong straight shot that bounced back to Ganiyu Oseni. The Nigerian striker tapped in from close range to open the scoring on 13 minutes.
Seven minutes later he turned provider feeding the ball to Pape Omar Faye who doubled the score.
Before halftime, Trần Văn Kiên brought a ball under control in the middle of the pitch and he fed Hải who broke the off-side trap and the U23 national team captain made no mistake with a neat finish.
Hải had not score in all local and international competitions in the club level as well as the national teams this season.
Hoàng Vũ Samson netted the fourth goal from the penalty spot four minutes from time.
Sông Lam Nghệ An were missing four key players through injury. Their best chances fell to Michael Olaha and Dos Santos Marcio but keeper Nguyễn Văn Công wasn't to be beaten.
Hà Nội are back on top with 10 points.
This was Sông Lam Nghệ An first loss of the season and they have dropped to fifth place with seven points.
Hoàng Anh Gia Lai received their third loss in a row after losing 0-1 to Hải Phòng FC in a match that saw striker Nguyễn Văn Toàn miss a penalty kick on Saturday at the Lạch Tray Stadium.
Hải Phòng made the most of their home advantage and attacked right from the off and went ahead just eight minutes into the game.
Hoàng Dương gave the ball to Joseph who chested and finished to the far corner past goalkeeper Sietma.
Toàn was fouled in the box after 38 minutes and his team were given a spot kick. National member Toàn took the duty but he could not beat keeper Văn Toản.
Toản was in his peak as he then denied all other Hoàng Anh Gia Lai's attempts, helping his team maintaining the result.
In HCM City, Sài Gòn FC tied with HCM City FC in a goalless match at the Thống Nhất Stadium.
Hosts Sài Gòn should have scored an opener on 13 minutes but Pedro's finish went over the bar in a one-on-one situation with goalkeeper Thanh Thắng.
HCM City also had their chances but they could not find the net.
Da Silva scored for Sài Gòn in the additional time but he was in an offside position and the goal was disallowed.
Sanna Khánh Hoà grabbed their first win of the season beating Nam Định 2-1 on away.
Văn Phong and Warley Oliveira scored for the visitors before Xuân Quyết narrowed the result on the 74th mark. The win lifted Khánh Hoà off the bottom position. They are at placed 12 out of 14 teams and will next play defending champions Hà Nội FC.
The latest match will be between former champions Becamex Bình Dương and new comers Viettel today at the Gò Đậu Stadium.
Source : VNS