Hà Nội, Bình Dương qualify for AFC Cup knockout rounds
2019-05-16 10:57:14
Both Hà Nội FC and Bình Dương, Việt Nam's two representatives in the 2019 AFC Cup, won their final group stage matches yesterday to earn spots in the knockout round of the competition.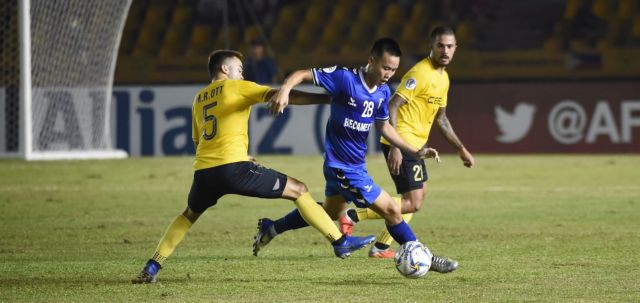 Defending V.League 1 champions Hà Nội FC defeated 10-man Tampines Rovers of Singapore 2-0 to top Group F on goal difference over the Singaporean side.
After six group matches, Hà Nội gained 13 points with a goal difference of +18. Tampines Roves also had 13 points but their goal difference was +7.
Ganiyu Oseni and Nguyễn Thành Chung scored their goals in the first half to help Hà Nội move into the ASEAN zonal semi-finals.
Hà Nội had many opportunities to increase the score after the break, but Đoàn Văn Hậu, Đỗ Hùng Dũng, Nguyễn Quang Hải and Hoàng Vũ Samson all missed chances.
After the match, coach Chu Đình Nghiêm said his players could have scored more than two goals.
"The most important thing is that we gained three points to secure the right to go on," said Nghiêm. "My players forgot the loss against Thanh Hoá in the national premiere league to focus on the decisive match with Tampines Rovers in the continental event."
"In fact, we created many good chances in the second half but we missed. My players weren't decisive so no more goals were scored," Nghiêm added.
According to Nghiêm, the hot weather during the match sapped the players of their strength.
"My players' physical strength was affected not only because of this game but also because of their overloaded recent competition schedule," said Nghiêm.
"In the upcoming time, I hope the Việt Nam Football Federation will support us and arrange the competition schedule reasonably for us to have more time to rest and recover our strength," he said.
Oseni, who scored the opener for Hà Nội, said the team was pleased to move on to the knockout round.
"We will try our best in the next round to go further in the event," he said.
Meanwhile, Wander Luiz's spectacular late winner earned Bình Dương a 1-0 victory over Ceres Negros FC in Group G that secured the Vietnamese sides place in the next phase of the competition.
With this win, Bình Dương claimed the berth for the best runners-up in the ASEAN zonal semi-finals.
In the next round, Bình Dương will take on PSM Makassar of Indonesia and Hà Nội FC will meet Ceres Negros of the Philippines.
Source : VNS