Hải nominated Asia's best footballer award
2018-12-17 11:06:19
Midfielder Nguyễn Quang Hải is the only footballer from Việt Nam nominated for the Best Footballer of Asia Award by Titan Sports and Fox Sports Asia.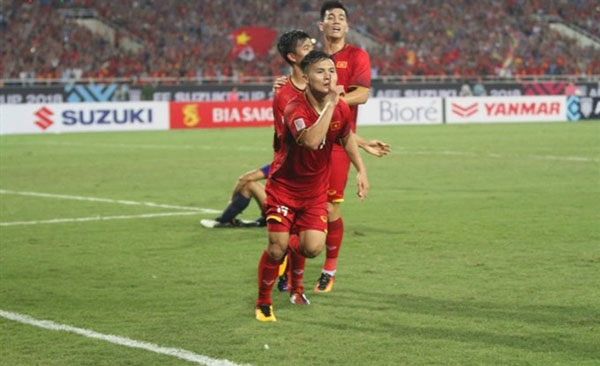 This is the first time a Vietnamese player has been represented among the 24 nominees.
First launched in 2013, the award is one of the most important events of the year for Asian footballers.
This year, 42 leading journalists from across the Asian Football Confederation (AFC) nations will vote on the candidates.
Each reporter will rank five players from their top choice to their fifth choice. The selected players are awarded six, four, three, two, or one points respectively.
Journalist Trương Anh Ngọc is the only Vietnamese representative invited by the organising board to take part in the vote.
The Southeast Asian region has one representative besides Hải: goalie Neil Etheridge of the Philippines.
The deadline for the vote is December 20.
Hải, 21, is also a candidate for the Việt Nam Golden Ball this year following his outstanding performances in the national premiere league for Hà Nội FC and for the national team in the AFC U23 Championship final in China in January, the Asian Games in Indonesia in August and at the ongoing AFF Suzuki Cup.
Source :