Hai Phong jump to second place after win
2019-03-06 10:39:18
Ten-man Hải Phòng beat Sanna Khánh Hòa 4-3 in the V.League yesterday away in Nha Trang City.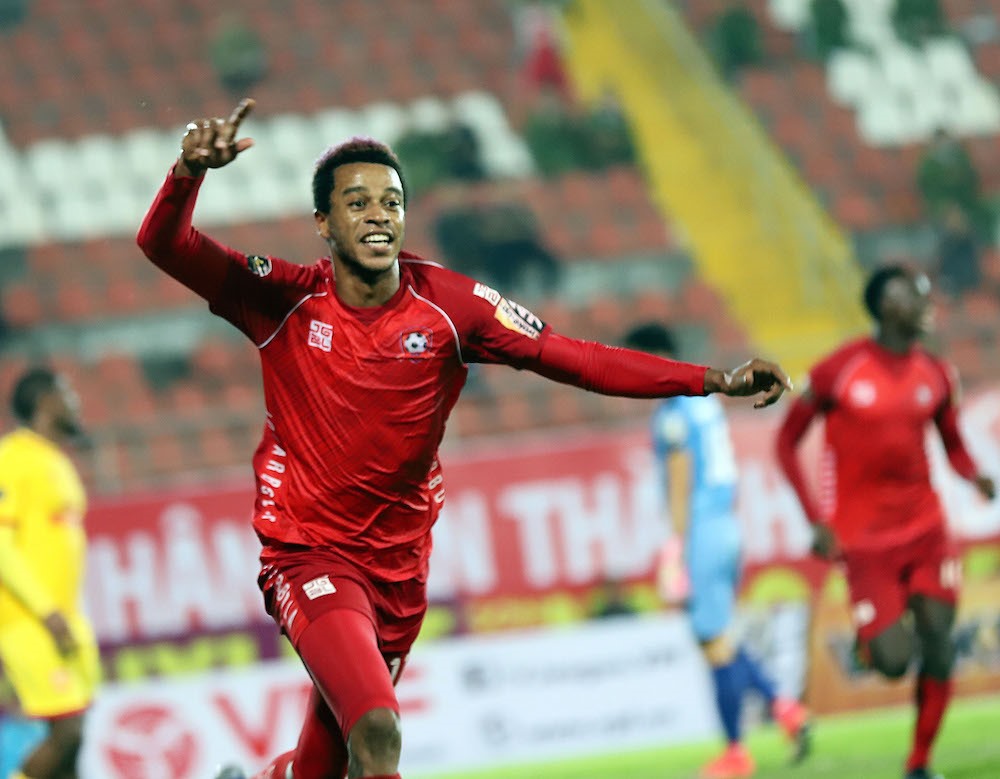 Jamaican striker Jeremie Lynch was sent off in the 84th minute after scoring a hat-trick, the first of the season.
Despite the man advantage, six minutes was not enough for Sanna Khánh Hòa to get back on level terms.
Playing at home Sanna Khánh Hòa were looking for their first win of the season after two losses.
Ngọc Tân opened the score for the visiting side just 14 minute into the game with a close-range effort.
Lynch doubled the score as he pounced after a mistake by Sanna Khánh Hòa's defender Duy Thanh.
Sanna Khánh Hòa narrowed the gap four minutes before the interval.
Lâm Ti Phông played a neat one-two with Youssouf Toure and beat goalkeeper Phan Đình Vũ Hải.
Lynch netted his second goal 15 minutes after the break. Heading home to beat keeper Nguyễn Tuấn Mạnh.
Zarour Chaher scored two in three minutes to help the home side level but six minutes from the end Lynch completed his hat-trick.
Lynch took off his jersey to celebrate the goal which saw him booked for a second time and will miss the next game.
The second win pushed Hải Phòng to the second position behind HCM City FC.
Sanna Khánh Hòa meanwhile stayed bottom with no wins so far this season.
In Peiku, hosts Hoàng Anh Gia Lai suffered their second defeat in a row, losing 1-3 to Sài Gòn FC.
Sài Gòn temporally stay at third with two wins while Hoàng Anh Gia Lai are in seventh with just one win.
The V.League will continue with three matches today as new comer Viettel host defending champions Hà Nội FC and Thanh Hóa visit Quảng Ninh.
The league will close for a month when the U23 players prepare and compete at the 2020 Asian championship qualification on March 22, 24 and 26.
Source : VNS