HCM City FC riding high under South Korean coach
2019-05-30 09:39:15
After facing a relegation battle last season, HCM City FC now lead the V.League 1, largely thanks to South Korean coach Chung Hae-soung.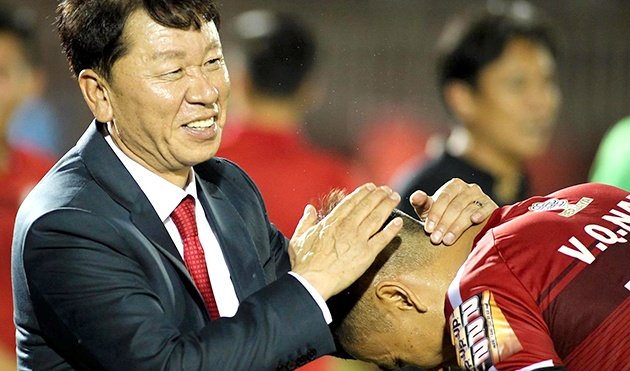 After 11 fixtures, the southern side have 26 points to top the rankings with eight wins, two draws and one loss, leading defending champions Hà Nội in second by five points.
In the whole of last season, they only managed one extra point, finishing 12th out of 14 teams.
The remarkable turnaround began in the off-season, when Chung rang the changes and shipped 12 players out of town and signed 14.
While changing a squad so drastically can be dangerous, HCM City FC have thrived, with 10 different players scoring so far, more than any other team in the league.
It's not just the newcomers to have benefited from the new regime, as players like midfielder Lê Hoàng Thiên and striker Phạm Văn Thành have made important contributions after languishing on the bench under Japanese coach Toshya Miura.
According to Chung, his secret to success has been respecting every member of the club, fostering a sense of unity.
The South Korean has dictated that the majority of prize money from the club's owners and sponsors goes to the players, with the backroom staff taking only a 20 per cent share, leaving the remaining 80 per cent to the players, making him a popular man in the dressing room.
"I do this as I want to thank my players for their efforts," said Chung.
Every player is a warrior
Fans are enjoying the success, and the team's attractive football.
"Watching HCM City play is very interesting. They often make their rivals struggle as every player of HCM City competes hard. They are very strong, enthusiastic and play with togetherness. Their way of playing is versatile. They deserve to lead the V.League 1," said captain Trần Nguyên Mạnh of Sông Lam Nghệ An.
Fan Nguyễn Trực in Bình Thạnh District said watching HCM City FC play is a joy to behold.
"HCM City play very good and they are very lucky to have scored many goals in the last minutes. But I think that the luck only comes to those who work hard and have desire, those who prepare. Now watching HCM City play is fantastic."
With the season almost at the halfway mark, expectations are mounting that this group of players can bring HCM City FC their first league title in 17 years.
HAGL experience helps Chung
Before becoming head coach of HCM City, the 60-year-old Chung was technical director of Hoàng Anh Gia Lai (HAGL).
However, after a year at the Pleiku-based side, Chung was sacked due to poor results.
"At HAGL and HCM City, I have different positions. I HAGL, I was a technical director, while at present, I am head coach and have full power to decide in terms of my professional knowledge," Chung explained.
However, Chung is grateful for his experiences at HAGL, and thanked the team's president for hiring him Đoàn Nguyên Đức.
"Anyway, I thank Đức for giving me a chance to work in the V.League 1," said Chung.
"In last year's season, I learnt much about football culture in Việt Nam, Vietnamese footballers and the league. These experiences help me a lot in coaching HCM City," Chung added.
Chung was on Guus Hiddink's staff during South Korea's run to the 2002 World Cup semi-finals alongside Vietnamese national team head coach Park Hang-seo.
Chung was also an assistant for his national team at the 2010 World Cup.
Source : VNS