Korean FA's champions to face U23 Viet Nam
2017-12-19 10:57:11
Ulsan Hyundai FC, who won South Korea's FA Cup earlier this month, will send a squad of 18 to Việt Nam for a friendly match with U23 Việt Nam on December 21 in Hà Nội.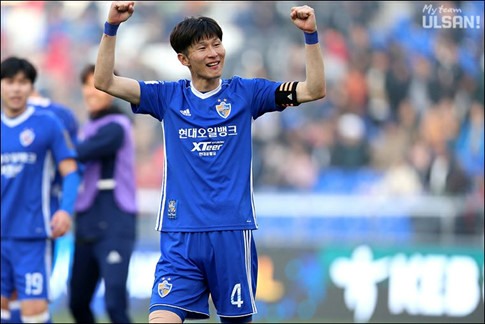 Defender Kang Min-soo of Ulsan Hyundai FC.
Most of the South Korean players in the squad played a part as the club finished fourth in the K-League Classic 2017 and won the FA Cup.
Ulsan Hyundai are expected to be a strong test for U23 Việt Nam to prepare for the finals of the 2018 AFC U23 Championship, where Việt Nam will face U23 South Korea, a team with similarities with Ulsan Huyndai.
Among the squad led by coach Kim Do-hoon, defender Kang Min-soo played for the South Korea national team in the World Cup in South Africa in 2010, while his fellow defender Jeong Dong-ho won the East Asian Football Championship two years ago with the national side.
The visitors also have young talents such as striker Shuh Myeong who played at the AFC U19 Championship in 2014 and midfielder Lee Sang-heon, who competed in the FIFA U20 World Cup 2017.
The Korean team will arrive in Hà Nội on December 20.
U23 Việt Nam have returned home after finishing third at the M-150 Cup friendly football tournament in Thailand.
They are now training at the Youth Football Training Centre in Hà Nội to prepare for the upcoming match which will take place at Hàng Đẫy Stadium at 7pm.
Source : VNS