Nam Định to face rivals Hà Nội in V.League
2019-05-24 09:39:03
Nam Định will be under new head coach Nguyễn Văn Dũng as they welcome defending champions Hà Nội FC today at Thiên Trường Stadium.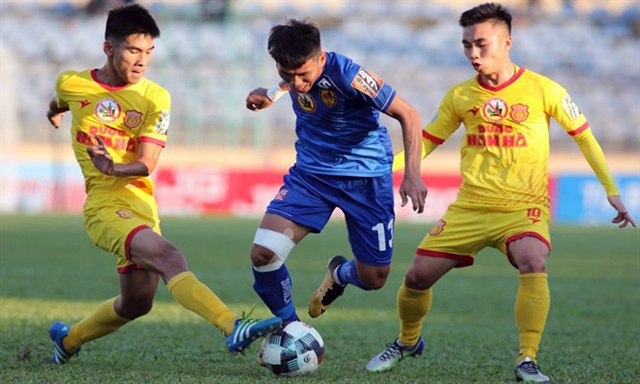 Former coach Nguyễn Văn Sỹ was fired yesterday after losing five games, drawing three and winning just two.
Sỹ has been reappointed technical director.
Dũng will face Hà Nội in his first game in charge, who are in good form after winning both local and continental tournaments. They are currently second in the league, just two points behind HCM City.
A win over Nam Định will put Hà Nội on top as HCM City play a day later against Sông Lam Nghệ An.
Hà Nội will have a strong line-up, with midfielder Nguyễn Quang Hải, defender Đoàn Văn Hậu and goalkeeper Bùi Tiến Dũng. The team are considered the 'mini version' of the national team while Nam Định have only Congolese striker Patiyo Tambwe as their stand-out player.
Hà Nội have won four V.League trophies, three National Cup titles and two Super Cups since their establishment 10 years ago.
Nam Định won the V.League in 1985 and the National Cup in 2007. They dropped down to V.League 2 for two years and returned in 2018 but struggled to avoid relegation.
Hà Nội have not lost to Nam Định in their last 10 meetings, winning seven and drawing three.
Nam Định will be at home with the support of thousands of fans.
Hà Nội will be without defender Trần Đình Trọng due to a suspension and Đỗ Duy Mạnh due to a leg injury.
Their match will be aired live from 5pm on VTV6.
The other matches today will be three-time champions Becamex Bình Dương vs Quảng Ninh; Thanh Hoá vs Sài Gòn; and Viettel vs Hải Phòng.
Source : VNS