Nghệ An to send young players to face Tampines Rover
2018-04-10 12:37:51
Young players will be given the chance to compete at the Asian Football Confederation Cup when Sông Lam Nghệ An host Tampines Rover on their home turf today.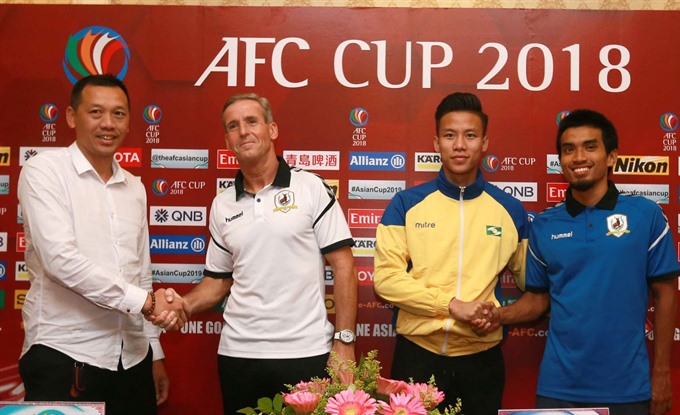 Coach Nguyễn Đức Thắng revealed his decision at a press briefing on Monday in Nghệ An Province.
He said senior players are to be rested for their local tournaments while the youth will test their skills in a match which, in the event of a win, will give Sông Lam Nghệ An a slot in the knock-out stage.
"When taking part in this tournament we did not think that we could go that far but we played our best in every game. We also have a thick schedule in the local competitions, about one match every four days. We have to forward plan for that to save our energy." Thắng said.
"We want to have three points tomorrow. Any player, senior or junior, on the field will know their duty. They are always thirsty for winning," he said.
He also revealed that two key players Võ Ngọc Toàn and Osmar Francisco will not compete in today's match due to injury.
Captain Quế Ngọc Hải took part in the briefing. He said the whole team will give their all for the best result, especially when competing on home turf. They aim to present a big gift to local supporters.
The Vietnamese representatives are now at the top of Group H with seven points. Singapore's Tampines Rover are at the bottom position with only one point.
In their first match on February 10, Sông Lam Nghệ An won 2-0 on.
On the other side, coach Jurgen Raab of Tampines Rover showed his team's great willingness to win points at the Vinh Stadium.
He said his team were not lucky in the first leg match and received an unexpected result. His players leaned lessons from that game and know how to limit their mistakes as well as resist Sông Lam Nghệ An's strong lead to bring home a point.
For this match in Việt Nam Raab has brought three Singapore national team players who he said will present challenges to Sông Lam Nghệ An, although Tampines Rover have already disqualified.
Yasir Harapi said all matches at AFC Cup were important to his club. They all want to win the coming game and are ready to face Sông Lam Nghệ An.
The match will begin at 3.30pm and will be aired live on the Fox Sport channel.
Source : VNS