Park gets 10 assistant for U23 tournament
2019-03-08 11:10:59
The Việt Nam Football Federation (VFF) has named the 10 assistants for coach Park Hang-seo ahead of the Asian U23 Championship qualification campaign which kicks off later this month in Hà Nội.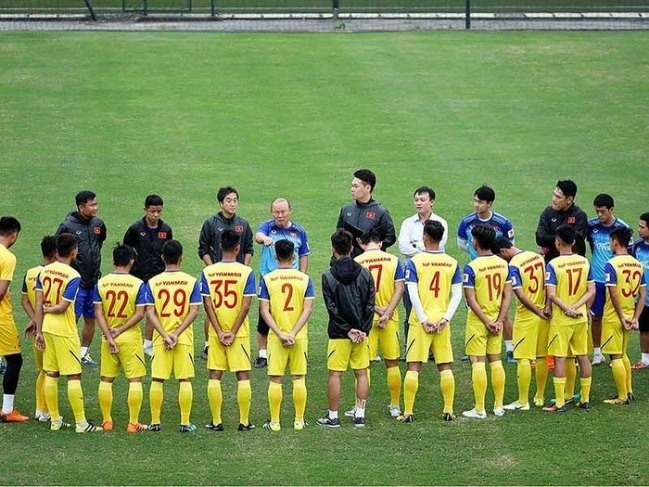 Following Park's request, the VFF signed a fitness coach, technique coach and language assistants for the team. They started with the team on March 6 in their first training session.
Yang Joo Hoo will take charge of players' fitness strength. The 29-year-old Korean played for Yongin FC and Gyeongju FC and then moved to be a fitness coach and worked for Suwon Samsung's U15 squad.
Park Sung-guyn is a Korean-English interpreter who will help Park in press conferences and interviews as well as in training and competition. Meanwhile, Lê Huy Khoa returns to work as a Korean-Vietnamese interpreter. Khoa supported Park during the Asian U23 Championship last year before he quit for personal reasons.
Lee Tae-hoon, who is working as technical coach for V.League side Hoàng Anh Gia Lai FC, has also joined the team.
Lee was national coach of Cambodia in 2013-17 and has worked for Hoàng Anh Gia Lai since the beginning of this year.
Đinh Hồng Vinh is the new Vietnamese coach who is also a technical coach. Vinh is director of the Juventus Academy Việt Nam and head coach of Bà Rịa Vũng Tàu FC in the second division.
The other coaches are Lee Young Jin (technical coach), Lưu Danh Minh (technical coach), Nguyễn Đức Cảnh (goalkeeper coach), Tuấn Nguyên Giáp (doctor) and Đinh Kim Tuấn (logistics manager).
Việt Nam will host Group K of the qualification event against Brunei, Thailand and Indonesia. Matches will be held on March 22-26.
Source : VNS