Sanna Khánh Hòa advance to Toyota Cup semis
2017-12-15 09:11:53
Việt Nam's Sanna Khánh Hòa go through to the semi-final of the Toyota Mekong Club Championship 2017.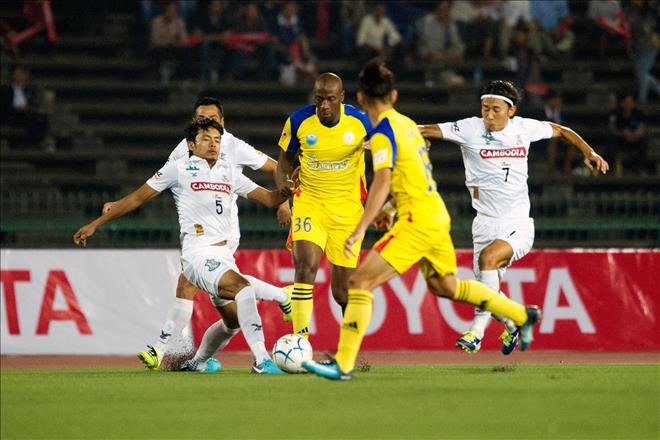 Youssouf Toure of Sanna Khánh Hòa (centre) scores a double in his team's 5-1 win over Boeung Ket Angkor on Wednesday.
The team completed a 9-5 aggregate win over Boeung Ket Angkor of Cambodia on Wednesday in Phnom Penh.
A 4-4 draw in last weekend's opening encounter of the first round match made Boeung Ket Angkor a favourite to advance with four away goals in their kitty, as well as home advantage in the second leg match.
However, it was Sanna Khánh Hòa who got off to a blistering start to win 5-1 at the National Olympic Stadium.
Nguyễn Hoàng Quốc Chí was felled in the box by host goalkeeper Sou Yaty.
Youssouf Toure, who netted a hat trick in the first leg match, opened the score from the penalty spot in the 14th minute.
Two minutes later, it was 2-0 for the visitors. Nguyễn Đình Nhơn ran the ball to the edge of the box before looping it over Yaty and into the back of the net.
The Cambodians responded in the 20th minute when Maycon Calijuri flicked a Chan Vathanaka cross towards the back post to find Sok Sovan, who coolly dispatched his shot past Nguyễn Tuấn Mạnh.
But, it was all they could do, although there were several other attempts during the rest of the first half and in the first 45 minutes of the second.
Ten minutes into the second half, Boeung Ket Angkor got a golden opportunity to equalise, but Maycon's penalty was saved by goalie Mạnh, who appreciated the Cambodian competitive spirit, having met them several times in the past.
Boeung Ket Angkor received a huge setback when Sun Sovanrithy received his second yellow card for a deliberate handball, and was sent off just 12 minutes after the interval.
Earlier, Yaty got injured shortly before halftime and had to therefore be replaced.
Sanna Khánh Hòa capitalised on their advantage. Chí managed a ball that was passed by Toure and fired it into the net in the 71st minute.
Toure later netted his second goal when he got in behind the opposition defence and sent a straight shot that went past substitute keeper Kim Makara.
In the last 10 minutes, both two sides made several changes, however only the decisions of coach Nguyễn Đình Tân of Sanna Khánh Hòa worked.
Nguyễn Đoàn Duy Anh needed only one minute to find Makara's net with a goal that could well be the easiest in his career, tapping the ball from two metres in to an empty net.
Sanna Khánh Hòa will now have just three days of rest before taking on Lao Toyota in Sunday's semifinal at the New Laos National Stadium in Vientiane.
Source : VNS