SS Khánh Hoà bring home AFF Futsal Cup silver
2019-06-24 14:13:29
Sanvinest Sanatech Khánh Hòa claimed silver at the ASEAN Football Federation Futsal Cup 2019 held at Terminal 21 in Korat, Thailand on Sunday.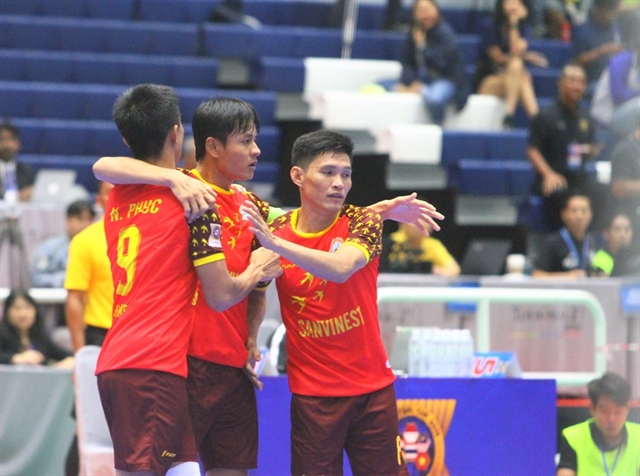 The Vietnamese team lost 9-1 to PTT Chonburi Bluewave of the hosts who showed irrepressible power to lift their first ever title.
It was Chonburi Bluewave's second win over their rivals after beating Khánh Hoà 8-2 in the group stage.
Rudimar Venancio opened the scoring with an easy tap in after six minutes.
Khánh Hoà tried to defend in numbers and waited for a chance to launch a quick counter-attack, but it was Chonburi Bluewave who doubled their lead minutes later through Suphawut Thueanklang.
The host side continued scoring in the second half with a double from Suphawut and goals from Kritsada Wongkaeo, Nattavut Madyalan, Nawin Rattanawongswas, Ronnachai Jungwongsuk and Jirawat Sornwichian.
Khánh Hoà could only score a consolation through Nguyễn Quốc Bảo three minutes from the end.
In the third-place play-off, Myanmar Imperial University beat Down Town Sport of Cambodia 9-5 to finish in third for the fourth time in their history.
Source : VNS