Thái Sơn Nam finish third in futsal tourney
2017-08-02 11:38:03
Thái Sơn Nam came from behind to clinch the third place in the Asian Football Confederation Futsal Club Championship after a 6-1 victory over Qatar's Al Rayyan in HCM City yesterday.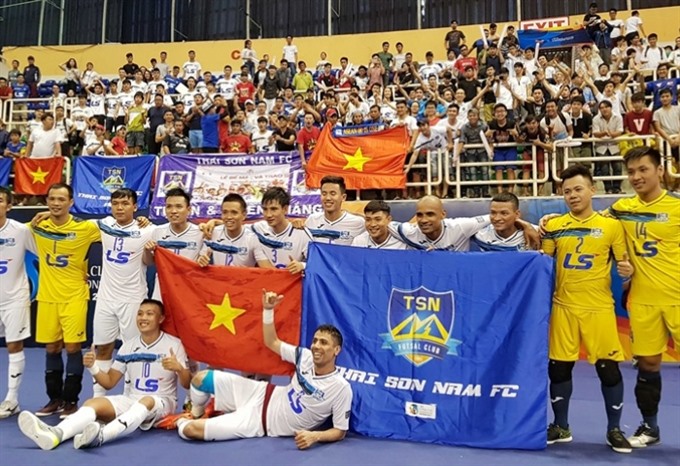 Vietnamese players celebrate their third-place victory at the AFC Futsal Club Championship in HCM City yesterday.
The Vietnamese champions secured a berth in the top three of the continental tournament for the second time.
Two years ago, they were third in the event which was organised in Iran.
The home side attacked their rivals from the beginning with a high-pressing game, but it was Al Rayyan who had the opener.
Hazem Samy Selim had an easy tap-in, converting Mohammad Taheri's looping header over goalkeeper Nguyễn Văn Huy to the net.
Al Rayyan almost doubled their lead in the 11th minute, when Diego Costa showed his class to turn past Thái Sơb Nam's Hossein Tayibbidgoli, before clipping his effort just over a well-beaten Huy, but it went wide.
Thái Sơn Nam also threatened the opposition several times.
Lukaian Baptista, Tayibbidgoli and Nguyễn Mạnh Dũng all tested Ali Ibrahim Al-Ajmi.
However, it was not until the 18th minute that they found the equaliser. Trần Thái Huy sent a pass to captain Trần Văn Vũ, who made no mistake from close-range finish.
Thái Sơn Nam continued dominating the second period's early proceedings.
It took them about 10 minutes to double the result, when Phùng Trọng Luân connected with precision to Lê Quốc Nam's kick-in.
Two minutes later, Tayebibidgoli bagged his seventh goal of the championship for the home side.
The Iranian completed his double with an accurate finish at the 40th mark.
Earlier, Thái Huy and Baptista had their names on the board with a goal each at the 37th and 38th minutes.
"We knew what was at stake today, and I am very satisfied with the victory. It was a fantastic performance from us. Obviously, there is still some way to go for us to catch up with Chonburi and Sanaye Giti Pasand, but today, we have shown that we are kings of the second tier. Make no mistake, it is our aim to catch up with those teams," said coach Miguel Rodrigo of Thái Sơn Nam on the-afc.com.
"I must also congratulate coach Gago and his players for a fantastic tournament. More importantly, today's result would not have been possible without the amazing support of the home fans who were cheering for us until the last minute. This is for all of them out there!"
Meanwhile, Carlos Cesar Gago of Al Rayyan congratulated the Vietnamese side. He blamed his players' dropped energy levels for the loss. However, to finish fourth in all of Asia is a very good achievement for the team, he added.
In the final match later yesterday, a magical hattrick by Suphawut Thueanklang steered Bluewave Chonburi of Thailand to the coveted title for the second time after narrowly defeating Giti Pasand of Iran 3-2.
Source : VNS