Thái Sơn Nam qualify for quarter-finals
2017-07-25 14:23:17
Thái Sơn Nam defeated Al Dhafra 2-0 in the final match of the AFC Futsal Club Championship's group A yesterday at Phú Thọ Indoor Stadium in HCM City.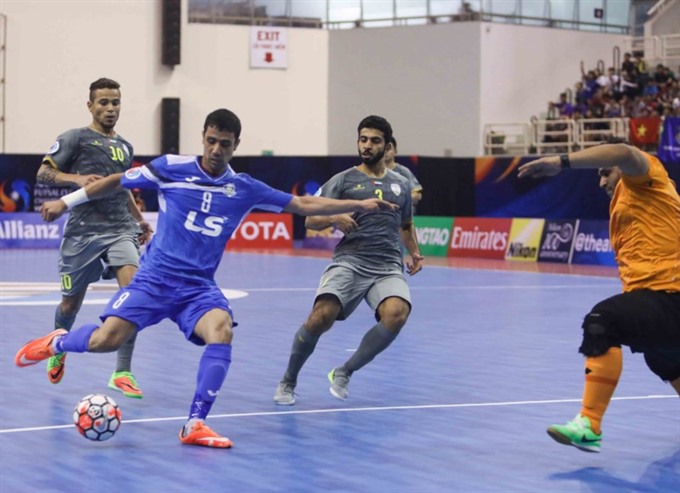 Two goals by foreign player Hossein Tayyebi (second from left) helped Thái Sơn Nam Futsal Club to defeat Al Dhafra from UAE, winning the ticket to enter the quarter-finals of AFC Futsal Club Championship. — Photo plo.vn
The slim victory has helped the team fulfill their first target of making the quarterfinals of the tournament.
Before the match, the Vietnamese team knew they needed a win against the group leaders from the UAE to qualify for the next round.
Thái Sơn Nam demonstrated great determination at the beginning of the match, taking full advantage of playing at home.
Both goals were scored by Iranian import Hossein Tayyebi in the 7th and 16th minutes, the second of which was scored on the counter.
In the second half, the game opened up considerably, with Thái Sơn Nam on the front foot in the first 10 minutes. However, coach Miguel Rodrigo's side squandered many opportunities to score another goal.
Towards the end of the second half, Al Dhafra piled on the pressure but were unable to get on the score sheet, leaving the Vietnamese side victorious.
With the group matches completed, three of group A's four teams finished level on six points, with Al Dhafra and Thái Sơn Nam joined by Erem (Kyrgyzstan). Due to their superior goal difference, the Vietnamese side and Al Dhafra qualified for the quarterfinals, with Erem bowing out.
In the quarter-finals, Thái Sơn Nam will face either Naft Al-Wasat (Iraq) or Al Rayyan (Qatar). The match will take place on July 27 at Phú Thọ Indoor Stadium.
Source : http://vietnamnews.vn