Trung aims to win AFF Cup
2018-01-09 11:36:32
After winning the Golden Ball award 2017, captain of V.League 1 champions Quảng Nam, Đinh Thanh Trung says he and the national team aim to win the AFF Cup this year.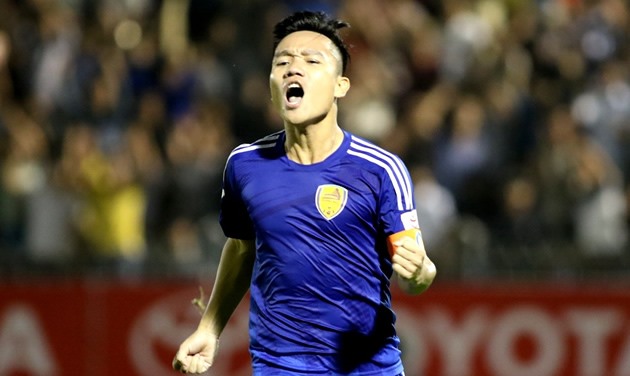 Captain of V.League club Quảng Nam, Đinh Thanh Trung says he aims together with the national team win the AFF Cup this year.
Midfielder Trung was a key player in his side's league glory. He was also instrumental in helping the national team through the Asian Cup 2019 qualification rounds
"I will try to play well to help Quảng Nam defend their title this year. If I am called to the national team to compete in the 2018 AFF Cup, I and my teammates will make every effort to enter the final and I hope Việt Nam will take the cup like 10 years ago," said Trung.
"Winning the AFF Cup is my biggest wish this year," Trung added.
The 29-year-old Trung, who was born in the central province of Hà Tĩnh, has proved his mettle as a leader and captain.
"Trung is like the eldest brother of the team. Although he is younger than many footballers, he is always a good example to his teammates on both the pitch and in life," said Lê Nguyên Hồng, chairman of Quảng Nam,
Trung joined Quảng Nam team in 2012, while the team were playing in the National First Division.
Only a year later, Trung was helped his team win the first division and gained promotion to the national premier league.
Following his excellent performance this season, Trung won the best player award of the V.League 2017 season. He was one of six players competing in all 26 matches of the league in which he scored 10 goals and contributed 10 assists, playing a part in nearly half of Quảng Nam's goals.
In addition to his contribution for Quảng Nam, Trung is also an important player in the national senior football team, having been selected by coaches Nguyễn Hữu Thắng, Mai Đức Chung and Park Hang-seo after making his debut in 2010 while playing for Hà Nội.
He was vice-captain of Việt Nam in the Asian Cup 2019 qualification rounds last year.
Source : VNS