U16 GIRLS: Myanmar win Group A; Vietnam as runners-up
2018-05-10 11:06:08
Vietnam had to be content with the runners-up spot following their dismal 1-0 win over Malaysia at the Bumi Sriwijaya Stadium as Myanmar turned on the power this afternoon to crush last year's finalists Philippines 7-1 at the Athletic Jaka Baring 1 Stadium to win Group A.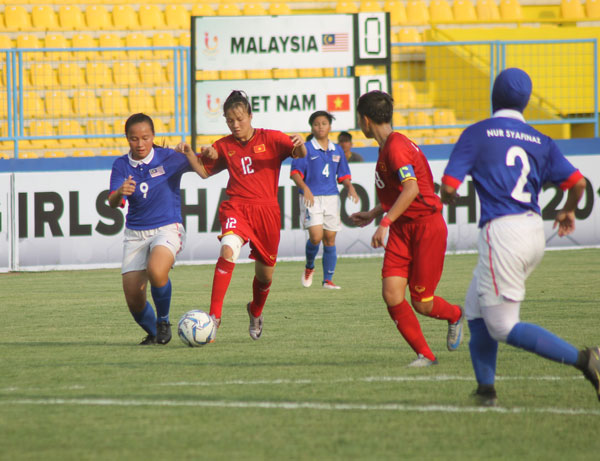 In the match which both Myanmar and Vietnam needed the goals to win the group so as to avoid playing defending champions Thailand in the semi-finals, both teams also had to contend with the prospect of outside chance Malaysia from sneaking in.
But in the end, Myanmar proved to be too formidable while jittery Vietnam just had to make do with the solitary goal.
"We knew that Malaysia will be tough and they showed it today but my girls made far too many mistakes," said Vietnam head coach Nguyen Thai Mai Lan. "We should have scored a few more goals given the chances we had."
Vietnam created a string of chances with their forward line powered by captain Vu Thi Hoa and Dang Thanh Thao and they should have scored in the seventh minute but Thi Hoa shot it wide in front of an open goal.
Five minutes later, Thanh Hoa's close range attempt was blocked while some time later, she just could not finish from a tight angle.
The change for reserve keeper Nur Aisyah Farhana Abidin for the injured Nuralyaa Natasha Zulkefli affected the confidence at the back.
And just four minutes after the restart, Ho Thi Kim En fired in from some 20metres out had Nur Aisyah fully beaten.
Vietnam tried to add to the score line by piling on the pressure but the Malaysian girls stood their ground as they covered the spaces and always on the lookout to go forward.
But it did little to affect the outcome of the match as the score remained to the final whistle.
In the meantime at the Athletic Jaka Baring 1 Stadium, the Philippines found themselves at the wrong end of a marauding Myanmar side when they blasted in four goals in the first half before adding three more after the break.
Myat Noe Khin was prolific with four goals (18th, 45th, 49th and 54th minute) as Swe Mar Aung (4th and 20th minute) and Win Win (37th) added the others.
Philippines scored a consolation in the 71st minute through Maria Gloria Diaz Lazo.
Following today's results, the cast for the semi-finals is completed.
Myanmar will play Laos at the Bumi Sriwijaya Stadium while Thailand will take on Vietnam at the Athletic Jaka Baring 1 Stadium.
Kick off has been changed to 1500hrs for both matches to accommodate the unpredictable weather.

AFF UNDER-16 GIRLS' CHAMPIONSHIP
RESULTS (Group A)
Malaysia 0 Vietnam 1
Philippines 1 Myanmar 7
SEMI-FINALS FIXTURES
11 May 2018 (Kick off at 1500hrs)
Myanmar vs Laos (Bumi Sriwijaya)
Thailand vs Vietnam (Athletic Jaka Baring 1)
Source : http://www.aseanfootball.org