U18: Big win for Vietnam in opener
2017-09-12 10:08:31
Vietnam scored a big opening win in their campaign in Group B when they thumped Brunei DS 8-1 on the fourth match day of the AFF Under-18 Championship here at the Thuwunna Stadium.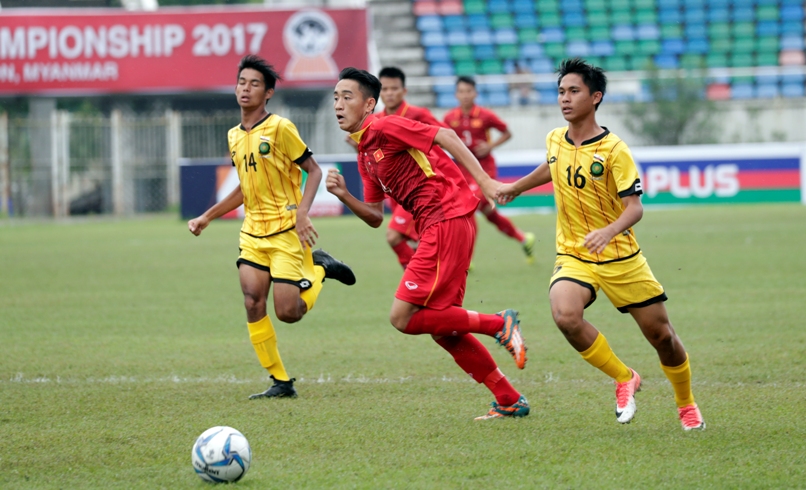 With Brunei having beaten the Philippines in their first game in the group two days earlier, there were expectations that they would at least give Vietnam a hard fight in the match that was affected by the persistent rain yet again.
But in the end, Vietnam were just too organised as they scored three goals in the first half before adding further goals after the breather for the comprehensive win.
"It is our first game played under heavy condition," said Le Xuan Tu afterwards. "We still have several more matches to play, so we have to be careful (with player selection)."
Xuan Tu was the first to get on to the score sheet when he headed home the cross from Truong Tien Anh in the 15th minute.
Tien Anh then rocked the Brunei post with a stiff grounder in the 24th minute before Vietnam added the second goal two minutes later with a close range effort from Nguyen Hong Son.
Brunei managed to pull a goal back when Muhammad Nur Asyraffahmi Norsamri capitalised on a defensive mistake in the 44thminute as Tran Van Cong then restored Vietnam's advantage moments later for them to take a 3-1 lead going into the second half.
Vietnam then took full control of the game after the break as they pushed Brunei back into their own half before piling on the goals off Xuan Tu (74th minute), Dang Van Toi (77th), Nguyen Khac Khiem (78th and 90th) and Mai Sy Hoang (89th).
"We tried to match Vietnam as much as possible but they just had too much quality with their technical ability and physical endurance," added Asyraffahmi.
Source : aseanfootball.org