VFF shakes hand with KFA to develop football
2018-03-28 15:10:15
The Việt Nam Football Federation (VFF) and the Korean Football Association (KFA) signed a Memorandum of Understanding (MoU) in Hà Nội on Thursday.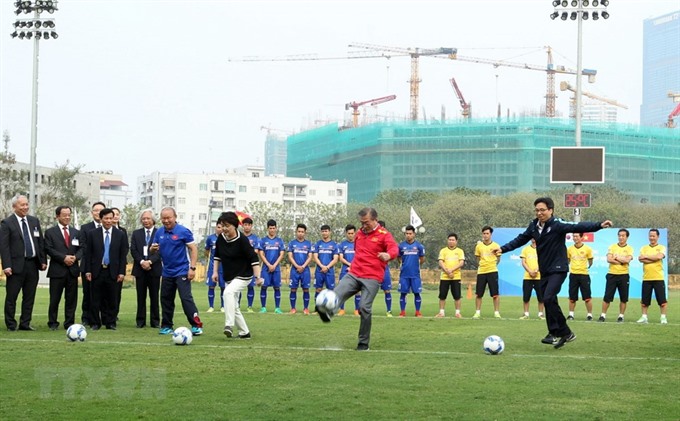 South Korean President Moon, Deputy's PM Đam and others kick balls during their meet with the national U23 team.
According to the MoU, the two sides will cooperate to strengthen their relationship and support each other at meetings in Asia and the world.
They will regularly share and exchange human resources, such as experienced coaches, referees and teams for training camps to develop the sport. Experts from both sides will take part in conferences, forums and courses organised by the other side.
Sports medicine and technology, as well as football equipment management, will also be areas of cooperation.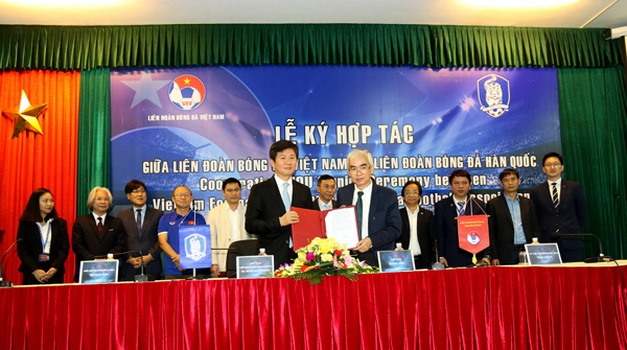 VFF President Lê Hùng Dũng and KFA President Chung Mong Gyu (left) at the MoU signing ceremony in Hà Nội on 22 March
"We have recently seen a firm cooperation between VFF and KFA through football exchange activities, including the presence of Việt Nam national head coach Park Hang-seo and his assistants in Hà Nội. The signing of the MoU is a turning point in the relationship between the VFF and KFA, which will bring positive effects to the development of football in both countries," said VFF President Lê Hùng Dũng.
KFA President Chung Mong Gyu shared his happiness with the Vietnamese counterparts about their recent successes, especially the Asian silver of the U23 squad.
He said these achievements were the result of hard work of the coaches, players and VFF.
Chung hoped that the cooperation between VFF and KFA would take the game of the two nations to new heights.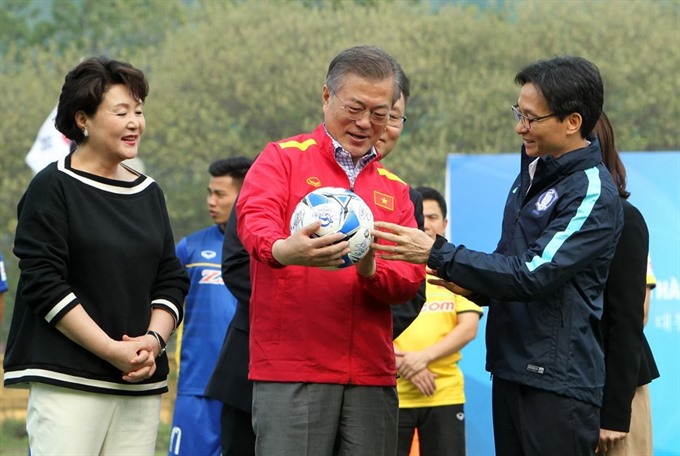 South Korean President Moon Jae-in (in red) receives a ball from Việt Nam Deputy PM Vũ Đức Đam.

He said Việt Nam would be a strong force in Asia and that South Korea were happy to contribute a small part in the development of Việt Nam's football.
On Thursday afternoon, South Korean President Moon Jae-in and his wife met VFF as well as the U23 players and coaching board in Hà Nội.
Moon expressed his impression of Việt Nam's result at the Asian Championship in China two months ago. He said he had watched the Asian U23 Championship final and believed that if it would not have been snowing that day, Việt Nam would have won the trophy.
The President and Vietnamese Deputy Prime Minister Vũ Đức Đam exchanged balls and jerseys of the Việt Nam and South Korea national teams.
Moon and his wife, Đam, Park and captain Lương Xuân Trường took part in friendly ball kicks at the Việt Nam Youth Football Training Centre.
Source : VNS