Việt Nam's victory over Jordan at Asian Cup grabs int'l headlines
2019-01-21 20:49:49
Việt Nam's 'Golden Dragons' have received praise around the world following their 4-2 penalty shootout win over Jordan on Sunday to advance to the quarter-finals of the AFC Asian Cup 2019.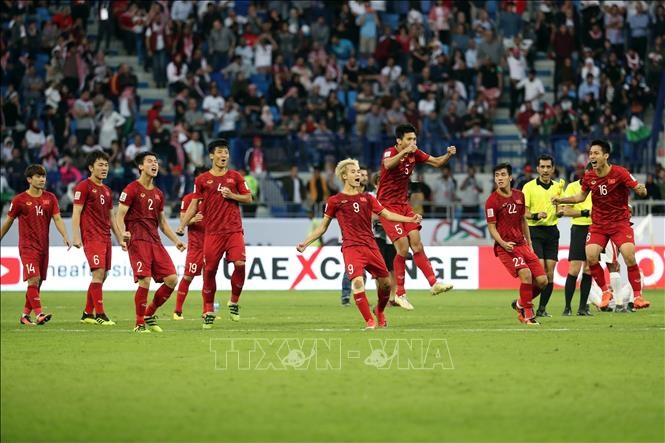 AFP said that Việt Nam emerged "victorious" from a penalty shootout with Jordan, becoming the first team to reach the tournament's quarter-final round after being the last team to scrape into the round of 16.
"The Southeast Asian champions were on balance the stronger and more positive team over the 120 minutes," it said.
Reuters complimented Việt Nam for their excellent performance, neat interplay, and stylish touches.
On its website, Fox Sports Asia quoted a line-up of comments from football aficionados, who depicted Việt Nam's triumph as a "fairy tale" but convincing and deserving. Many fans from Thailand expressed their profound admiration.
In its player ratings following the match, Fox Sports Asia rated Nguyễn Công Phượng a 9 who "had another brilliant game and got a vital goal early in the second half", Bùi Tiến Dũng who "made crucial challenges and kept Jordan at bay for much of the game" and goalkeeper Đặng Văn Lâm who "was very calm under pressure, and held his nerve during a tense penalty shootout".
Meanwhile, the South Korean media were impressed by coach Park Hang-seo's magic.
He has received media coverage in his homeland since he led the Vietnamese football team at the AFC U23 Championships 2018, Asian Games 2018, and AFF Suzuki Cup 2018.
Chosunilbo said that Park's magic helped Việt Nam play better than their rivals. The Daily Sports praised Park's ability when he and the Vietnamese football team beat Jordan to gain the first ticket to the quarter-final round.
Source : VNS