Việt Nam aim for a giant-killing
2019-01-24 10:26:15
Việt Nam coach Park Hang-seo will set his side out to resist the attacking prowess of Japan in the quarter-final of the Asian Cup today in Dubai, the UAE.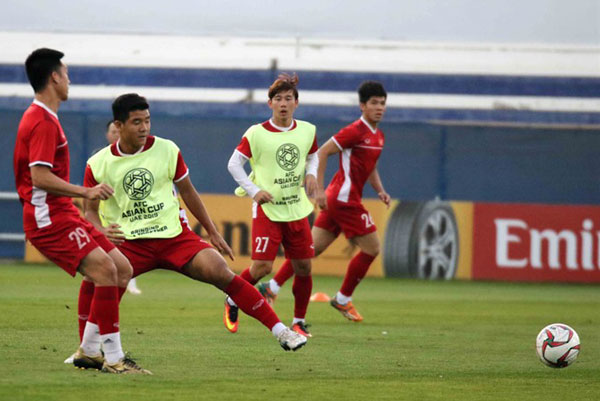 Việt Nam were the last team to qualify for the round of 16, edging Lebanon on the fairplay rule after both teams ended level on points, goal difference and goals scored in the group stage. They went on to beat Jordan on penalty kicks in the second round.
Japan won all three matches to top their group before beating Saudi Arabia 1-0 in the knock-out phase, keeping their bid for a record-extending fifth continental title on track.
According to estimated transfer market valuation, the Japanese team are some 265 times more valuable than Việt Nam, making this a true David versus Goliath encounter.
Japan coach Hajime Moriyasu said he was proud with the way his team adapted to a defensive style against the Saudis, but confirmed that Japan would return to the swashbuckling football that saw them register wins over Turkmenistan, Oman and Uzbekistan.
He said though Japan only had two days to prepare for the quarter-final, one less than Việt Nam have enjoyed, he felt his team would be ready for the game.
Tsukasa Shiotani was also confident ahead of the match.
The midfielder, who plays for Al Ain FC of the UAE, said if he had chance to play against Việt Nam, he would do his best to help his country control the game and bring into play their strong points.
On the Vietnamese side, Park watched the match between Japan and Saudi Arabia and felt he had a handle on the team's strengths and weaknesses.
Park said the Japanese defence performed well, while the midfielders were tidy on the ball. The squad includes 12 players plying their trade in Europe, while every Vietnamese player last played club football domestically.
However, Japan also had weak points.
He said Japan had conceded three goals throughout the tournament, showing there are areas Việt Nam can exploit. The South Korean said it would be a big challenge for him but he and his team were excited to play this match.
"I didn't expect Jordan to play so cautiously in the first half, which was good for us because we could deal with them very well. Every tactic was perfectly executed by the players, so I am really proud of them," he told the AFC.com
Park said his team's unity had helped make them the only group round's third-place team still in the tournament.
"Our players know very well that we are one team, and I always remind them that we are one team fighting together."
The coming round will see video assistant referee (VAR) used for the first time in the tournament's history.
Park asked his team to respect referees and stop playing when they heard a whistle.
"Our coach does not set a target for us. He just wants us to believe in ourselves and play confidently. That would bring the best result," said Ngân Văn Đại.
On Tuesday, Prime Minister Nguyễn Xuân Phúc called to encourage the team.
Phúc said being one of final eight teams was a remarkable result.
He hoped the players would compete in unity and show their great Vietnamese spirit.
The match, under host referee Mohammed Abdulla Hassan Mohammed, will be broadcast live from 8pm Hà Nội time on VTV 6 and Fox Sports.
Source : VNS