Việt Nam beat Indonesia 6-0
2018-07-04 09:21:15
The Việt Nam national women's football team yesterday beat Indonesia 6-0 in their first match of Group B at the AFF Women's Championship 2018, held at the Jaka Baring Stadium, Indonesia.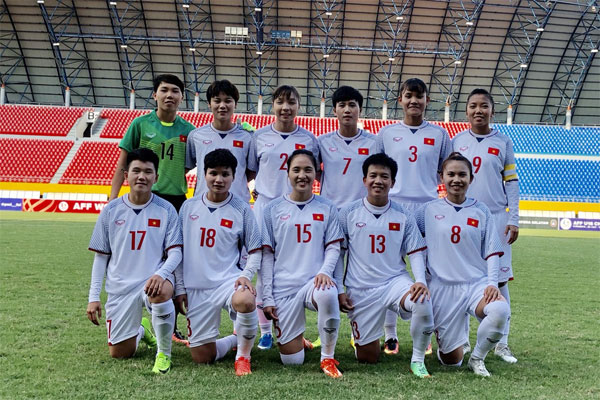 The team started the match with great confidence as they believed facing the host team in the first match would help them dominate throughout the championship.
Huỳnh Như opened with a goal for the Vietnamese team in the second minute. She was followed by Nguyễn Thị Vân with another at the 28th minute.
Before the first half ended, the Vietnamese women had scored a third thanks to Hải Yến.
In the second half of the match, Indonesia were unable to push the ball towards the Việt Nam side while Việt Nam showed no sign of slowing their attack.

In the remaining 45 minutes, the Vietnamese team scored three more goals thanks to Thái Thị Thảo, Huỳnh Như and Tuyết Dung.
Commenting on the Indonesian team on the eve of the match, the Vietnamese coach Mai Đức Chung, said the hosts had made a lot of progress in tactics and they held to a 0-0 draw against Singapore.
However, they still had certain weaknesses which included an uneven strength in their performance despite of a number of tall and strong players, Chung said.
According to the coach, the Vietnamese team played later than others team in the same group thus they had more time to prepare for their first match.
In the past few days, Chung said, the team's training focused on a comprehensive set of tactics.
Favourable weather conditions and accommodation were also adding to the team's confidence.
The team trained for nearly a week in Palembang, Indonesia to prepare for the event.
Earlier, hosts Indonesian were held to a scoreless draw by Singapore, while Myanmar thrashed the Philippines 4-0 in an earlier match of Group B.
The AFF event is taking place in Indonesia from June 30 to July 13. Việt Nam are in Group B alongside Myanmar, the Philippines, Singapore and the hosts Indonesia. Group A features Thailand, Australia, Malaysia, Cambodia and Timor Leste.
Source : VNS