Việt Nam beat Myanmar in women's football
2017-08-21 09:50:09
Việt Nam crushed Myanmar 3-1 in the second match of the women's football event at the Southeast Asian (SEA) Games in Malaysia yesterday.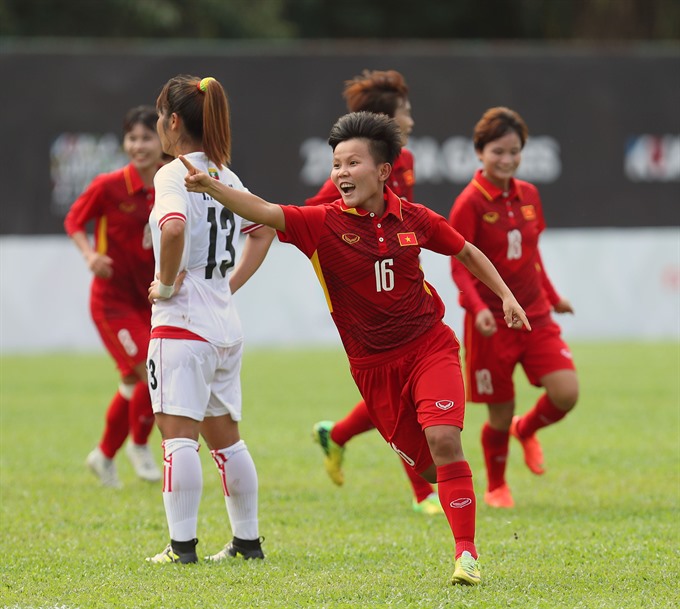 Nguyễn Thị Bích Thùy celebrates scoring a goal in the match between Việt Nam and Myanmar in the SEA Games yesterday. — VNA/VNS Photo Quốc Khánh

The win will help the team have a go at the event title. Earlier, the team also beat the Philippines 3-0.
Việt Nam's head coach Mai Đức Chung said the key to victory was the calm display by the team.
"We played calmly. When our rivals levelled the score at 1-1, we were still very composed," Chung said.
"The match was tense, but the two sides played fairly," Chung added.
"Việt Nam [today] had good tactics. We studied Myanmar and knew that they often play with all their strength in the first half, so I had made adjustments," Chung said.
Meanwhile, coach Reijners Roger Johannes Joseph Hu of Myanmar said he was unsatisfied with the result.
"I am very disappointed with the result and the performance of Myanmar in this game," Hu said.
Hu said his players made errors, giving the opponentthe chance to coordinate with each other. Myanmar did not play well in the first half, but the team played better in the second half; however, they still suffered a loss.
"With this result, it will be difficult for Myanmar to win a gold medal," Hu said.
Although Myanmar are considered stronger in the region, Việt Nam still played confidently.
In the 18th minute, taking full advantage of Myanmar's weak defence line, Phạm Hải Yến opened the score for Việt Nam.
The early goal helped the team dominate the match in the first half; however, they didn't score any more goals.
After the break, Myanmar attacked continuously to seek goals, and Win Theingi Tun levelled the score at 1-1 in the 58th minute.
In the 72nd minute, Nguyễn Thị Bích Thùy raised the score to 2-1 for her team.
From a quick throw-in, Huỳnh Như scored one more goal in the 82nd minute, concluding the match at 3-1.
Tomorrow, Việt Nam will meet Malaysia and on Thursday, they face Thailand.
Chung said his team would make every effort to grab the best results in these coming matches.
At this year's SEA Games, five women's football teams, including hosts Malaysia, the Philippines, Thailand, Myanmar and Việt Nam, will play in a round-robin format to select the top three teams to win the event's medal set.
The women's football competition will last until August 24.
On the men's side, Việt Nam defeated the Philippines 4-0 in their third straight win since the begining of the event.
Source : VNS