Việt Nam defeat Malaysia at AFC U19 Women's Champs
2018-10-25 16:11:05
Việt Nam's U19 women enjoyed their first victory after beating Malaysia 2-1 in the first qualifying round of Group E at the Asian Football Confederation (AFC) U19 Women's Championship.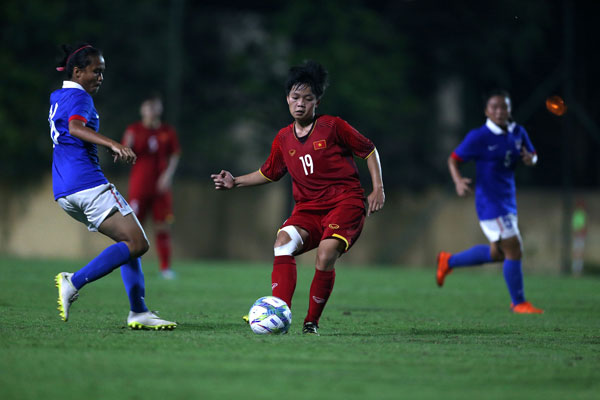 Tipped as the favourites, Việt Nam piled on the pressure from the opening whistle.
Surprisingly, Malaysia scored the first goal in the middle of the first half after a counter-attack from the right corner of the field.
Việt Nam ended the first half in confusion. However, in the 59th minute, receiving a pass, Tuyết Ngân overtook her rival and aimed high, equalising for Việt Nam.
Feeling fresh motivation, Việt Nam went on the attack and found a winner just 10 minutes later. After a pass from the left corner of the field, Nguyễn Thị Hoa showed up just in time and scored one more goal for Việt Nam.
With this victory, Việt Nam had a smooth start in the qualifying round of the tournament.
Head coach Mai Đức Chung said at the press conference, "Most players are U16, 17 and 18. We are on the way to finding young blood. We did not have much time, but we all worked hard and were ready for this game."
In the next match, the girls will face Singapore at 6pm tomorrow.
Source : VNS