Việt Nam earn slot to compete in final round of AFC U23 event
2017-07-25 14:18:20
Việt Nam yesterday earned a berth at the final round of the Asian Football Confederation (AFC) U23 Championship to be held in China next year.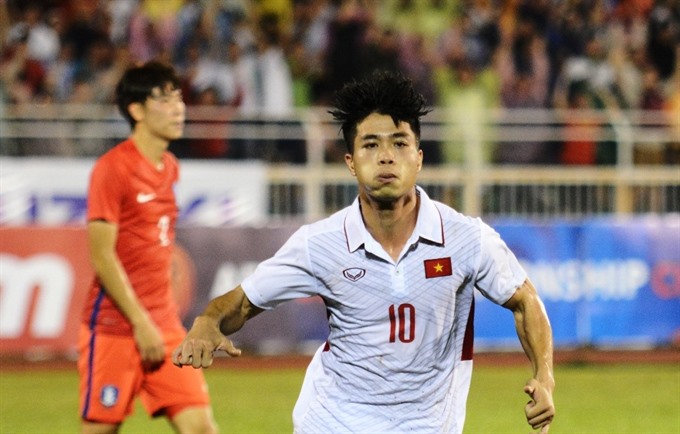 Top scorer: Vietnamese striker Nguyễn Công Phượng celebrates his goal in the match against South Korea in the Asian Football Confederation AFC U23 Championship qualification in HCM City yesterday. — Photo zing.vn
Although Việt Nam lost to South Korea 1-2 in the last qualification match, held at the Thống Nhất Stadium in HCM City yesterday, they will have a slot in the final as one of six best second-placed teams of the qualifying round.
Coach Nguyễn Hữu Thắng used four key players - Nguyễn Văn Toàn, Nguyễn Tuấn Anh, Lương Xuân Trường and Nguyễn Công Phượng - in the starting formation for the first time.
Việt Nam played defence in the first minutes of the match, however, striker Lee Sang-heon opened for the visitors in the 19th minute.
After receiving the first loss, Việt Nam attacked to level the score and from a pass in the left wing, striker Phượng defeated goalie Song Bum-keun to even the score for Việt Nam. It is the 11th goal Phượng has scored at the Thống Nhất Stadium in the past three years.
South Korea played attack continuously to seek more goals. In the 42nd minute, receiving a pass from Cho Young-wook, Hwang In-beom raised the score to 2-1 for his team.
After the break, Việt Nam had opportunities to score, but failed to do so.
"Việt Nam were well organised, had good combination and played with high concentration in this game. We had some difficulties before the tournament, because we didn't have our strongest players, but we played well today. All of our players were focused and showed a good performance. Việt Nam are a good team, and I think they will improve a lot in the near future," said coach Chung Jung-yong of South Korea on the website the-afc.com.
Meanwhile coach Thắng said: "I am satisfied with our players' spirit. We did not play with the idea to take only one point today but they played with good concentration."
At the qualification, 42 teams have been divided into nine groups, playing in nine countries including Việt Nam. The other eight hosting countries are North Korea, Kyrgyzstan, Myanmar, Palestine, Saudi Arabia, Qatar, Thailand, and the United Arab Emirates.
These teams will fight for 15 tickets to compete in the event's final round. China qualified automatically for the final round as the hosts.
Source : http://vietnamnews.vn