Việt Nam loses to Japan at Asian Cup
2018-04-10 12:36:35
Việt Nam's national women's football team lost to reigning champions Japan 0-4 in the opening match of Group B of the AFC Women's Asian Cup Jordan 2018 on Saturday.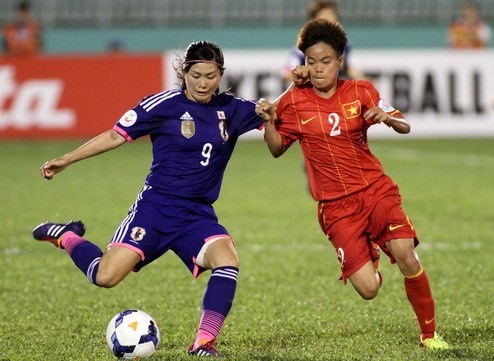 The game was held at King Abdullah II Stadium in Amman, Jordan.
It took just three minutes for Asako Takakura's charges to open the scoring through Kumi Yokoyama, who punished the poor Vietnamese defending to beat goalie Đặng Thị Kiều Trinh from 15 metres.
Receiving the early loss, Việt Nam responded by attacking quickly. However, with better physical strength and tactics, Japan easily dominated the game and maintained pressure on the Vietnamese team.
In the 17th minute, midfielder Emi Nakajima doubled the score for Japan.
Japan continued to threaten, but Việt Nam managed to stem the tide, somewhat, and survived until half-time without falling further behind.
After the break, Việt Nam worked hard to resist attacks by the Japanese team.
In the 53rd minute, receiving a pass from Emi Nakajima, Mana Iwabuchi headed the ball past goalkeeper Trinh, but it struck the crossbar.
Only four minutes later, Iwabuchi remained the chief destroyer, raising the score to 3-0 for Japan.
Then, Vietnamese coach Mai Đức Chung had a replacement on footballers and changed his tactics to try to narrow the gap.
However, striker Tanaka Mina, who replaced Yokoyama in the 63rd minute, added her name to the scoresheet in the 66th minute after goalie Trinh spilled Aya Sameshima's shot, coming directly into her path.
Two minutes later, Việt Nam had a chance to have the opener, but midfielder Nguyễn Thi Tuyết Dung didn't beat goalkeeper Ayaka Yamashita.
"Our line-up was not good, but we tried our best," said coach Chung.
"We lost to Japan, an arch rival. I am not complaining about anything. In the next match with Australia, I will try more," Chung added.
In another match in Group B, South Korea tied goalless with Australia.
On April 10, Việt Nam will face Australia.
Source : VNS