Việt Nam make maiden U-23 quarter-final
2018-01-19 15:25:33
Exhausted and excited, Việt Nam delivered another brilliant performance at the Asian Football Confederation U-23 Championship yesterday in China.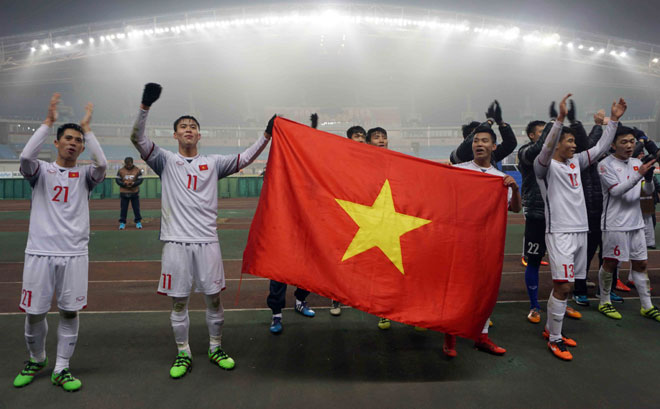 They have earned a slot in the quarter-finals of the tournament for the first time in history, after drawing Syria 0-0 in the last Group D match.
With four points after three games, Việt Nam ranked second behind South Korea and became one of the eight strongest teams in the continental competition.
Coach Park Hang-seo said prior to the tournament that he and his players would surprise everyone in China.
The first bang that the South Korean expert made was when Việt Nam, who were considered an underdog compared to the three rivals in their group, scored the first goal in the match that they lost narrowly 1-2 to South Korea.
In the second game, they shocked everyone beating Australia 1-0.
Yesterday, despite many difficulties they drew the taller and bigger Syrian team in a 90-minute match that saw them playing like warriors.
As the door to the quarter-finals was open to all four contenders depending on the result of the last match, Việt Nam and Syria both started their match carefully.
Việt Nam, in the lower level, played in defence with five defenders, who, however, had scoring skills and could quickly turn to counter-attack.
The plan worked really well for the team who filled all the holes that Syrian players dug in during their first 20 minutes of the first half.
Goalkeeper Bùi Tiến Dũng continued his perfect form that he has shown since the beginning of the tournament.
He denied Syria's two chances by Moumen Naji's attempt and Mohamad Arnaout's narrow header.
Việt Nam also had their attempts but striker Nguyễn Công Phượng could not scare goalkeeper Khaled Ibrahim of the other side.
Việt Nam almost took the lead 11 minutes into the second half, as Phượng's shot from inside the area was smartly saved by goalkeeper Ibrahim.
Syria gradually came closest to breaking the deadlock at 75 minutes. However, Abdullah Jniat passed to Ahmad Rafat, whose shot from a distance of 5m was blocked by Vietnamese defender Bùi Tiến Dũng, as was his follow up.
Rafat headed wide of the post shortly after, before substitute Hamzah Muhannaeh wasted another golden opportunity to win the game for Syria. At the goal mouth, the midfielder fluffed his shot when well placed, following Al Ahmad's pass.
They made great efforts but failed to breach Việt Nam's resolute defence until the last seconds when the Vietnamese jumped up to cheer each other while the Syrians collapsed to the field.
"It is a memorable historic result for Việt Nam at the tournament. We did what we wanted. We did our best before and during the tournament to grab this success," said midfielder Nguyễn Quang Hải.
"We have to say 'thank you' to all our supporters who have been greatly encouraging us until now and we hope they would continue to follow us in the coming match. After this game, we will be back to the field for intensive practice because we still have to improve so that we can have positive results for the quarter-finals but now we will take time to enjoy our success," he said.
Hải was a key player in Park Hang-seo's roster. He started from the beginning in all three matches in the group round and scored both goals for Việt Nam to date.
In another game of the group, South Korea beat Australia 3-2 to remain on top with seven points.
"First of all, I want to thank my players who are a united team, doing everything for the best result. In this group, we met with very strong rivals. I thought we had suitable plans to play them. I think we had good tactics this tournament," said Park.
"After the first two matches, they were tired. In this match I asked them to focus, especially in the last 15 minutes. My players exerted themselves," he said.
On the other side, coach Hussein Afash congratulated Việt Nam who defended very well. He regretted that his team tried hard and they had opportunities but could not bring them into play.
In the last-eight round, Việt Nam will face Group C leader Iraq on Saturday.
Iraq took third position at the previous championship in 2016 in Qatar.
South Korea will face Malaysia, the first Southeast Asian team to enter the quarter-final as the second-placed team of Group C.
Other matches will be Qatar vs Palestine and Japan vs Uzbekistan.
Minister of Culture, Sports and Tourism Nguyễn Ngọc Thiện sent a letter of congratulations to the U23 squad.
In the letter he expressed his delight at seeing Việt Nam go through to the quarter-finals of the continental tournament after a draw to Syria and two strong performances prior to that.
On behalf of the ministry leaders, Thiện congratulated the team on their success and praised the effort of head coach Park Hang-seo and the whole team. He hoped that they would continue shining in the next match.
Thiện announced a bonus of VNĐ200 million (US$9,000) to the U23s. At the same time the Việt Nam Football Federation also delivered a VNĐ1.4 billion ($63,000) bonus for their miracle in China.
Source : VNS