Việt Nam ready for AFC Women's U16 champs
2019-01-10 09:40:11
Việt Nam's U16 team has convened in Cẩm Phả City in the northern coastal province of Quảng Ninh to prepare for the second qualifying round of the 2019 Asian Football Confederation (AFC) Women's U16 Championship.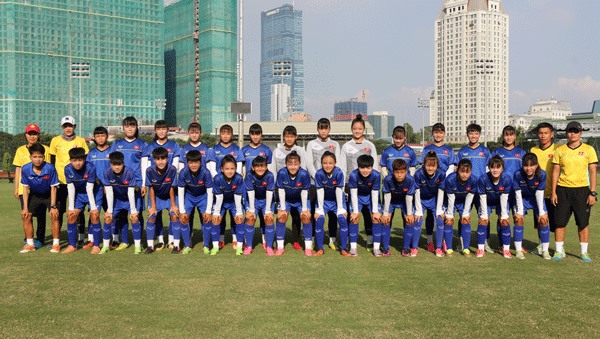 Head coach Nguyễn Mai Lan selected 27 players for the tournament.
As scheduled, they will return to Hà Nội on January 17 to continue their training for two weeks before the Lunar New Year holidays.
The training will resume in HCM City for 10 days to help the players get used to hot weather. On March 1, the team will leave for Laos to play the second qualifying round, where they face hosts Laos, Iran and Australia in Group A.
Việt Nam will play Laos on March 3, Australia on March 5, and face Iran two days later.
In the first qualifying round, Việt Nam defeated Lebanon 7-0, Bahrain 14-0 and the United Arab Emirates 4-0, and lost 2-0 to the hosts Bangladesh in Group F.
These results secured the team a place in the next round. The second qualifying round will include eight teams and be divided into two groups. The two winners of each group will qualify for the final round.
Source :