Việt Nam set sights on SEA Games gold in 2019
2019-02-13 10:50:41
Việt Nam's football team are aiming for SEA Games gold for the first time this year after their stunning success in 2018.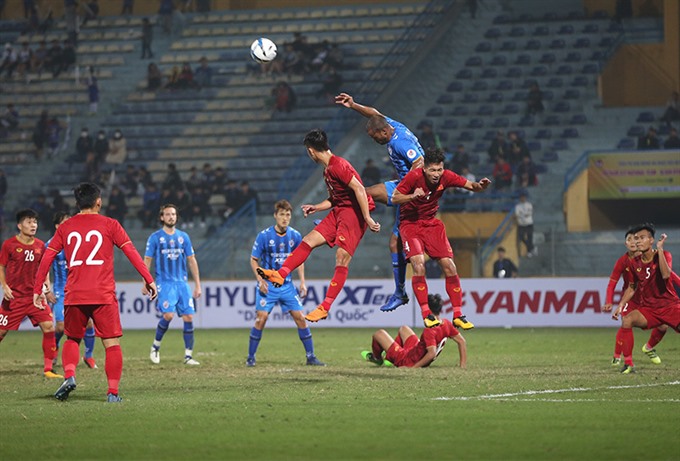 The national team ended their 10-year title drought after taking the ASEAN Football Championship trophy last December. Their second title not only ignited the nation but also hope of winning the SEA Games after six decades.
Việt Nam claimed gold in 1959 when the regional tournament was called the Southeast Asian Peninsular (SEAP) Games, but since it changed to the SEA Games in 1977 the country's best result has been runners-up.
VFF General Secretary Lê Hoài Anh said: "We understand the orters' dream of a SEA Games gold, especially after the outstanding performance of the U23s and the national team recently. We have good players and strong support. Now we just need to prepare well for the Games."
Many football experts believe that it is time for the team to shine.
"We should not set unrealistic targets. The SEA Games is within our reach. We have a talented generation and our coach Park Hang-seo is really good at selecting the best players and building the perfect team. SEA Games gold is waiting for them," said expert Đoàn Minh Xương.
Vương Bích Thắng, head of the Việt Nam Sports Administration, said they would provide the best conditions for the team to reach the podium at the Games.
The Games begin in the Philippines in late November, and key national team members such as Nguyễn Quang Hải, Đoàn Văn Hậu and Trần Đình Trọng are also the core of the U22 squad.
Hải will be key to the challenge as the 21-year-old midfielder played an important role in Việt Nam's recent AFF Cup triumph.
Defender Trọng and Hậu have been strong in front of goal and fast spreading play forwards.
Goalkeeper Bùi Tiến Dũng had a remarkable performance at the U23 Championship last year and will take charge behind the sticks.
In the front line, the V.League's best striker Nguyễn Tiến Linh will take the lead assisted by Hà Đức Chinh, a big game player.
"These players will be the core of the team. They should help their younger teammates with both technique and experience at the SEA Games," said seasoned football commentator Vũ Quang Huy.
"It's been 60 years since the SEAP Games win. We have not won the tournament for a long time, so this time we should focus 100 per cent on it," said Huy.
The U22 squad is currently training in HCM City. They will take part in the ASEAN U22 Championship in Cambodia from February 17-26 in preparation for the Games. Việt Nam are in Group A with Thailand, East Timor and the Philippines. Group B includes Malaysia, Myanmar, Indonesia and the hosts.
Source : VNS