Việt Nam win first match at regional U15 tournament
2019-07-30 22:14:52
Việt Nam beat the Philippines 3-1 in the second match during the ASEAN Football Federation U15 Championship in Thailand on Monday.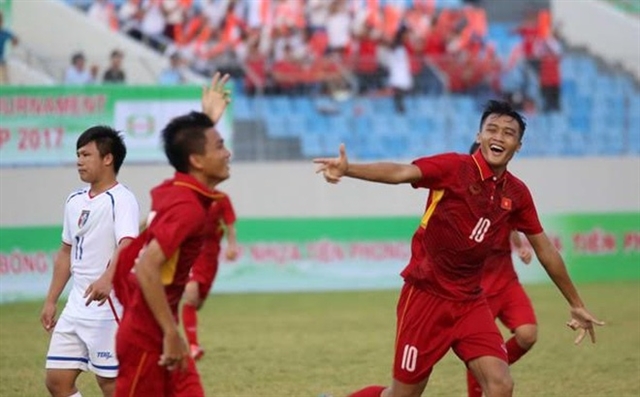 After several missed chances Phạm Văn Phong opened the scoring with a header in the 24th minute.
Minutes into the second half, Việt Nam extended the lead with Cái Văn Quỳ netting twice to make it 3-0.
Việt Nam, who lost 0-2 to Indonesia in the first match, launched more attacks but their attempts were denied by goalkeeper Jan Reven Diolo.
The Philippines then narrowed the score when midfielder Harry James Nunez scored a consolation.
"A 3-1 win was a good result for us, but I was not satisfied with how they performed. The score would have been different if we didn't waste many opportunities. For the next match against Singapore, we must get three points," said Việt Nam's coach Đinh Thế Nam.
His team are currently third in Group A.
East Timor lead the group with two wins, followed by Indonesia who also bagged two wins.
In Group B, Malaysia, Australia and the hosts all have three points after their first match. Malaysia lead on goal difference.
Today, Australia will play Laos, Malaysia will see Cambodia and Thailand will meet Brunei.
Source : VNS