Vietnamese football stars earn dream moves
2019-02-18 10:42:56
Việt Nam's star striker Nguyễn Công Phượng yesterday officially signed for South Korean side Incheon United, leaving Hoàng Anh Gia Lai (HAGL) on a one year loan deal.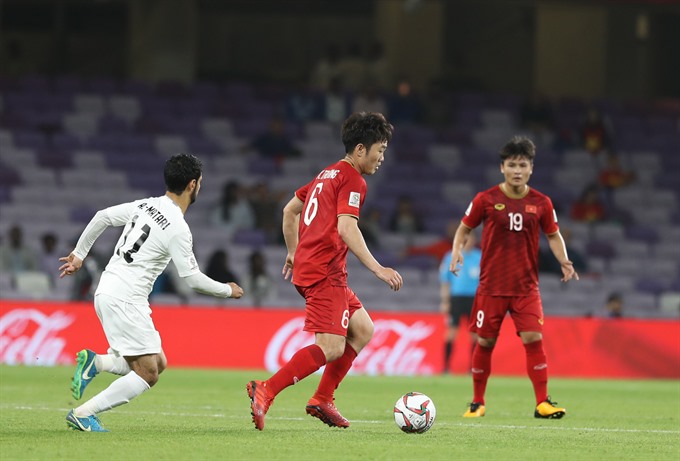 Midfielder Lương Xuân Trường (centre) competes at the Asian Cup. Trường joins Buriham United for the 2019 season.
He is the third Vietnamese player to have moved abroad in recent weeks, after goalkeeper Đặng Văn Lâm and midfielder Lương Xuân Trường in 2019.
After Việt Nam's success at last year's Asian U23 Championship, Asian Games and ASEAN Football Championship as well as the Asian Cup this January, Vietnamese players have drawn international attention.
Lâm was the first to secure a dream move when he signed a three-year deal with the Thai League's Muangthong United. Trường followed him weeks later on a loan deal to Buriram United in Thailand, also departing HAGL.
They have made Việt Nam's dream of having international footballers a reality, but now the hard work truly begins.
In the past several Vietnamese players have moved abroad, giving hope of enhancing the nation's level of football but none, including Phượng, made it.
The first time Phượng moved overseas was in 2015 when he signed one loan for Japanese side Mito Hollyhock of the J.League 2. The 24-year-old from Nghệ An Province, his trainers at the HAGL JMG Academy and football lovers hoped he would shine. However Phượng did not succeed and returned home quietly after a year.
His teammate at HAGL, Trường also struggled during his two years playing for Incheon United and Gangwon in South Korea.
Earlier, striker Lê Huỳnh Đức, midfielders Lương Trung Tuấn and Nguyễn Việt Thắng and Việt Nam's best ever forward Lê Công Vinh also played abroad. All of them struggled in a different environment and culture and failed integrate with their new teammates.
Vinh was the only one to play in Europe in 2009, and then in Asia in 2013, but after returning home he posted on his Facebook that: "Four months to make familiar with a new environment is not simple. Exhausted from practising every day. Different culture, weather, language and many other things to learn to change..."
He said that in such circumstances, even having a chance to play was great.
These are not the only obstacles they will face in the near future.
The newcomers will have to fight for berths in their teams against top quality players who have been at their clubs for a long time.
Goalie Lâm might have the best chance to succeed as he has the best foundation.
The Vietnamese-Russian was trained in Moscow before returning to compete in Việt Nam and his performances at the AFF Cup and the Asian Cup persuaded Muanthong to pay US$500,000 for his signature, making him the most expensive goalkeeper ever of the club and Việt Nam.
Trường, meanwhile, has a clause in his contract guaranteeing he will play 80 per cent of his team's matches, so stiff competition in the form of Japan international and former Bundsliga player Hosogai Hajime shouldn't be a huge concern.
At Incheon United, apart from Phượng, the club is home to nine strikers such as Montenegro international Stefan Mugosa and Moon Chang-jin, who joined the team last month and has scored 99 goals in the K.League 1 so far.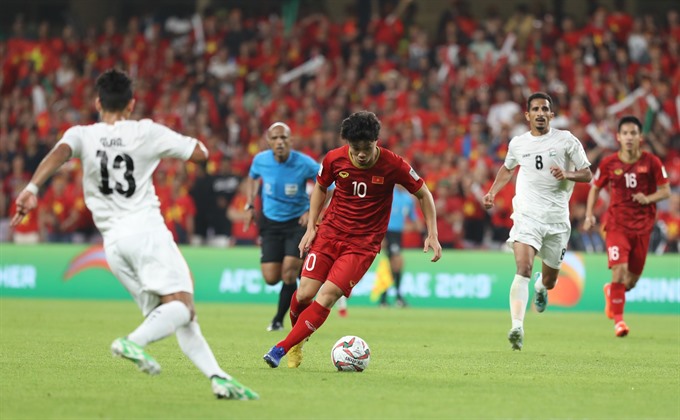 Striker Nguyễn Công Phượng (centre) hopes he would success in the K.League under Incheon United jersey.
Chance is open
"Playing in South Korea will definitely be a challenge for me. But it is also an opportunity. I will practise hard to adjust with the new competition level. It will be difficult but I am not worried about that, I am confident that I can make it," Phượng said to reporters at a press conference yesterday in Incheon.
"I am happy to play for Incheon United. It is a good club. I will work well and hope to contribute my best as a Vietnamese. I will not let people down," he said, adding that through national coach of Việt Nam team Park Hang-seo, he learnt a lot about South Korean football. His teammate Trường also told him about the club.
"I will fix my weak points while bringing into play my strong ones. The K.League is tough but I will find chances to score.
"Hope that my move to the K.League will be a strong push for other Vietnamese players to go abroad. It will lift Việt Nam's football up."
Football expert Đoàn Minh Xương supported their moves saying: "Three years ago they (Phượng and Trường) were too young to play in such a professional leagues compared to Việt Nam. Their lack of experience and preparation prevented them from shining. They proved their talents in 2018 with good technique, solid spirit and confidence. They will make their break in their new environment."
He added that having players competing abroad meant Vietnamese football was at a higher level.
"I think this time Phượng will be different. He played well at the Asian Cup and he made teams want to buy him. He has his chance and let's see how he takes it," former striker Lê Công Vinh said.
The Thai League will begin next week while the K.League kicks off in early March.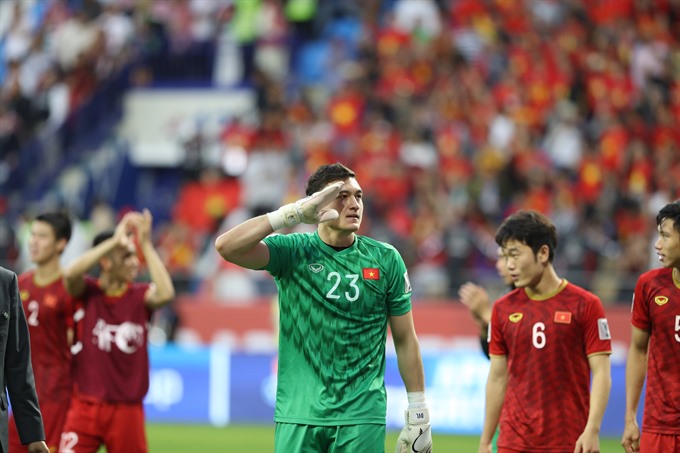 Goalkeeper Đặng Văn Lâm makes a record of transfer when he moves to Thai League's Muangthong United.
Source : VNS