Vinh to bring professional football for students
2018-10-05 10:30:21
Nguyễn Hoàng Group and the CV9 community football academy, founded by former Việt Nam national team captain Lê Công Vinh, have launched a programme to provide professional football training to students.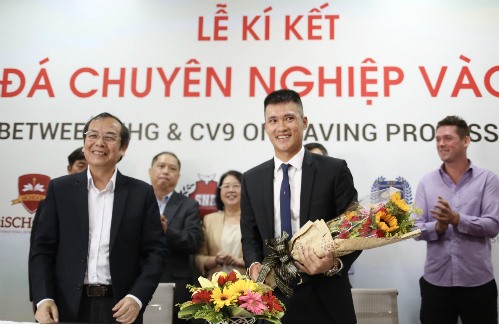 At the signing ceremony held in Ho Chi Minh City on Wednesday, Vinh said the programme is a dream he has nurtured for a long time, hoping to develop community-based football in Việt Nam.
The deal is expected to tap into the athletic potential of schoolchildren, helping to select and train prominent future players for professional clubs and the national team, he added.
Deputy Director of HCM City's Department of Education and Training Bùi Thị Diễm Thu said the municipal educational sector has added numerous sports, including football, into the school curriculum.
Under the programme, more than 40,000 students from 40 educational establishments in 15 provinces and cities of the Nguyễn Hoàng Group will receive football training during their physical education classes, with programmes designed by experts of the CV9 academy.
The CV9 academy has invited Marshall Soper, former Australian national player, to work as a technical advisor, along with other Vietnamese and foreign coaches and players, including Nguyễn Thị Kim Hồng from Việt Nam's national women's football team.
Source : VNS