VOV earns exclusive right to air AFC U23 Champs
2019-03-23 11:51:31
The Voice of Việt Nam (VOV) broadcaster announced it has earned the rights to air the first six matches of the qualifying round in Group K of the Asian Football Confederation (AFC) U23 Championship 2020 in a press conference held Monday.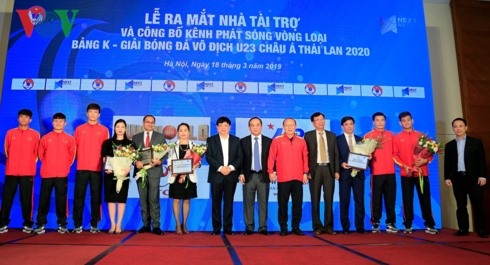 The Việt Nam Football Federation (VFF) also signed with Next Media Company to be the official sponsor of the tournament.
The AFC U23 Championship, held in Thailand, is one of the official AFC tournaments, held every two years. The teams include U23 Brunei, U24 Indonesia, U23 Thailand and U23 Việt Nam.
All matches will take place from March 22-26 at Mỹ Đình National Stadium, Hà Nội.
Matches will be broadcast on channels VTC1, VTC3, VOVTV, VOV.VN and livestreamed on VFF's Youtube channel, and FanPage for the Next Sports channel.
Next Media has also successfully negotiated to air all matches in Indonesia and Thailand with its international business partners.
Nguyễn Trung Kiên, director of Next Media, told the media, "We are very proud to give Việt Nam fans the chance to watch the matches live and cheer for the national U23 team on all multimedia outlets. This is also the first time 4K technology has been applied in football broadcasting in Việt Nam, bringing the best image quality to viewers.
"Việt Nam's football is on the way to becoming professional, reaching the level of global football. We want to go side by side with fans to bring the best images of the team to football lovers around the nation."
In the conference, besides VOV, VFF and Next Media also announced the list of other sponsors and broadcasters of the tournament until March 18, including Sunworld Group JSC, Military Commercial Joint Stock Bank, Crowne Plaza West Hà Nội and TTC JSC.
Source : VNS