SEA Games 29: Vietnam earn a dream start in female football
2017-08-18 15:20:40
Coach Mai Duc Chung's students beat the Philippine female team 3-0 to make a dream start in the women's football event at the 29th Southeast Asian Games (SEA Games) in Malaysia on August 17.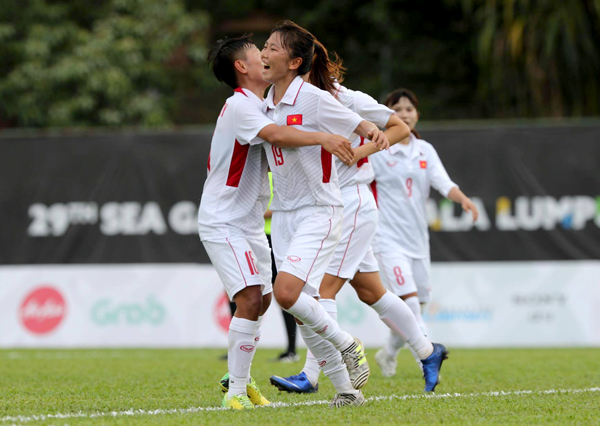 Huynh Nhu, Tuyet Dung and Nguyen Thi Muon are the scorers for Vietnam.
Filipino players actively played defensive and counter-attack, creating a huge challenge for Vietnamese players during the first half.
Vietnam almost dominated the match and created a range of scoring opportunities. The most remarkable was the finish that hit the cross bar by Thuy Trang. However, they failed to net the ball and the first half ended with 0-0 result.
Ten minutes past half time, Vietnam suffered the loss of midfielder Thuy Trang who was injured during the game. Striker Pham Hai Yen was brought on to bring fresh energy to the Vietnamese team.
However, Vietnam still needed the experience from veteran Huynh Nhu. In the 65th minute, she took the ball to the box's edge before beating Filipino goalkeeper to break the deadlock.
The goal helped Vietnam to take control of the game with just ten minutes before the end of the game, Tuyet Dung doubled the gap in the 84th minute after receiving Nguyen Thi Lieu's cross pass.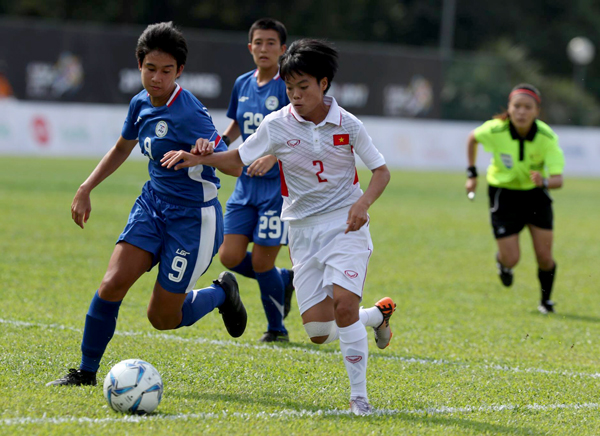 In the second minute of injury time, Filipino goalkeeper Kristianne Beza, who played well in the match, allowed Nguyen Thi Muon to score a 3-0 victory for Vietnam.
The 3-0 win helps Vietnam top the table of five teams as in two previously played matches on August 15, Thailand beat Myanmar 3-2 while the Philippines defeated hosts Malaysia 2-1.
On August 20, Coach Mai Duc Chung's players will play in the second game against Myanmar.
At this year's SEA Games, five women's football teams, including hosts Malaysia, the Philippines, Thailand, Myanmar and Vietnam, will play a round-robin format to select the top three teams to win the event's medal set. The women's football will last from August 15-24.
Hours earlier, Vietnamese male footballers earned their second victory during their SEA Games campaign against Cambodia with a resounding score of 4-1.
Source : nhandan.com.vn