Việt Nam to meet Australia in AFF women's champs
Việt Nam's women's football team will meet U-20 Australia in the semi-final of the AFF Championship on July 11 at the Bumi Sriwijaya Stadium in…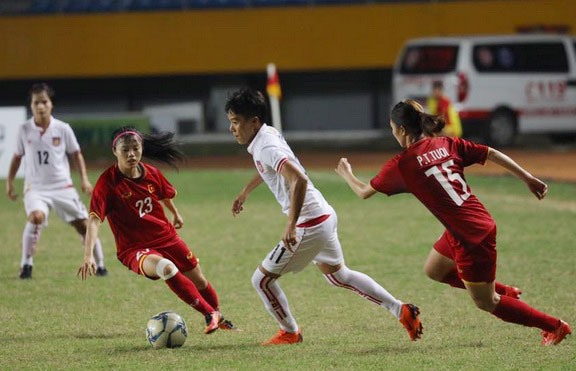 Việt Nam topped Group B with 12 points after four matches, while Australia were the runners-up of Group A with nine points.
In the last group match on Monday, Việt Nam beat Myanmar 4-3.
"It is good to win four out of four," said Vietnamese head coach Mai Đức Chung on the website aseanfootball.org
"Now we will look forward to playing against U-20 Australia in the semi-finals," Chung added.
Although Việt Nam had already qualified for the semis, the match against Myanmar decided the winner of the group.
The players duly stepped up and opened the scoring after 22 minutes after a poor clearence allowed Phạm Hải Yến to stab home.
Four minutes later, Nguyễn Thị Liễu had a chance to double the lead but was off target.
Myanmar battled to find an equaliser, but Việt Nam finally stretched their lead just five minutes into the second half with Yến turning in a cross from captain Huỳnh Như.
Just five minutes later, it was Như who found the back of the net with a well-taken freekick, but Myanmar grabbed their first goal of the game through Win Theingi Tun with a 58th minute effort.
In the 77th minute, Như added to her tally to make the score 4-1 to Việt Nam.
Myanmar striker Win Theingi Tun slotted away a penalty in the 87th minute following a foul by defender Chương Thị Kiều to raise the score to 2-4, before captain Kin Marlar made it a nervy ending with a goal in added time, but the tired Vietnamese team hung on and emerged victorious.