Olympic Tokyo 2020 Qualifiers – Group A: Korea 3-0 Vietnam
Both teams came into the match having already sealed their places in the Play-offs, with Korea Republic defeating Myanmar 7-0 while Vietnam had claimed a 1-0 victory over their Southeast Asian rivals.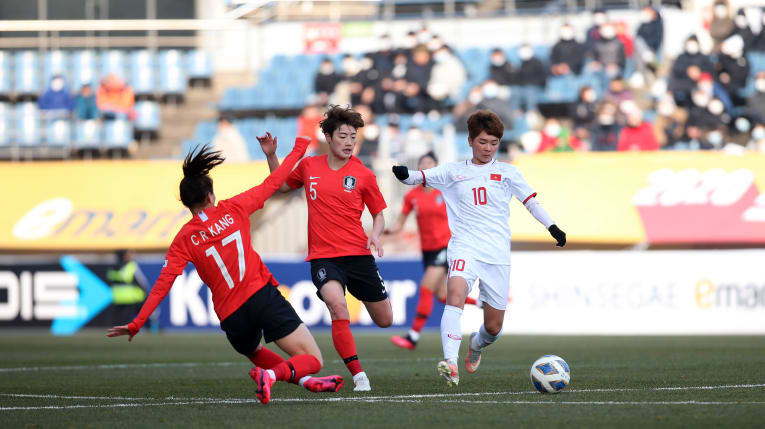 Korea Republic took immediate charge against an ultra defensive Vietnam missing four players who had started against Myanmar, including captain Huynh Nhu.
Goalkeeper Tran Thi Kim Thanh had to be on her toes throughout with Ji So-yun testing her with a low drive in the 16th minute as Vietnam had to fend of waves after waves of attacks.
Vietnam's resistance was broken seven minutes later as Jan Sel-gi brilliantly evaded her markers before lobbing the ball over Kim Thanh for a stunning finish.
Kim Thanh was called into action again in the 33rd minute as a fingertip save denied Kang Chae-rim's powerful drive from settling in the back of the net.
Korea Republic doubled their lead in the 52nd minute when Kim Thanh misjudged Choo's effort from outside the box, as the ball took a bounce before sailing into the net.
Ji, who bagged a brace against Myanmar, was denied by Kim Thanh in the 65th minute and 10 minutes later, the woodwork prevented the Korean from scoring her team's third.
The Chelsea midfielder, however, was not to be denied a goal as she finally beat Kim Thanh with a long-range effort in the 83rd minute to seal a stylish win for Korea Republic.
The Taeguk Ladies dominated from start to finish and will face the Group B runners-up in next month's Play-offs, with the winners to join hosts Japan as Asia's representatives at the 2020 Olympics.
Vietnam, who also advanced, will play the Group B winners.