Roestbakken hails Australia's fighting spirit
Chonburi: Karly Roestbakken has praised Australia's never-say-die attitude after their late goal against Vietnam sent them through to the last-four of…
Needing only a draw to progress, Vietnam were seven minutes away from making their first knockout stage appearance until the last gasp drama at a rain-soaked IPE Chonburi Stadium.
However, Mary Fowler's strike in the 83rd minute would ultimately break Vietnam hearts as Leah Blayney's charges held on to stay in sight of both the Continental title and a place in the FIFA U-20 Women's World Cup 2020 Nigeria.
"It was a very tough match, they [Vietnam] were good opponents and definitely the conditions played a huge part in that," said Roestbakken.
"We stuck to our game plan, prepared hard for this match and knew it was going to be a tough one, so we fought until the end."
The Australian captain revealed that the players were fired up to push for the victory after a goalless first half and their zeal to succeed carried them though.
"We have a never say die attitude, so in the dressing room we all just got fired up and we knew we had 45 minutes to go and that we had to get a goal.
"Every single person wanted to give their all and wanted to win the game. Each individual went out there and did their job."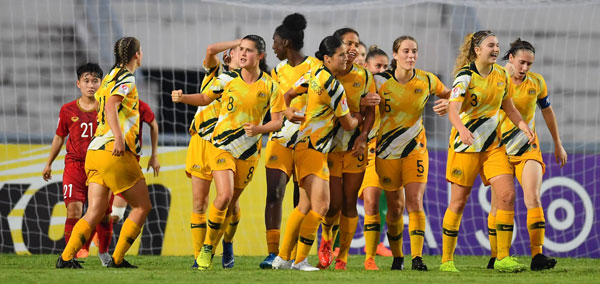 Australia are now just one win away from securing their place at the 2020 FIFA U-20 World Cup in Nigeria and Roestbakken claims the drive to achieve that particular goal was apparent as the team dug deep against Vietnam.
"Yes, we're super excited. It has always been our goal, to play in the 2020 World Cup and that's why we are here. We are all fighting so hard. We've got a lot of preparations to go through now, but that's definitely our goal."
"Support from anyone especially family members goes a long way. They are our rock and having them here really pumps you up even more and you want to do them proud.
"To the fans, it's a huge thank you! You guys have helped us to be very confident going out there, so a huge thank you to everyone."