16 awards are given in honor of the football night AFF Awards 2019
Hanoi (8/11), AFF Awards Night 2019 was held in JW Marriott Hotel.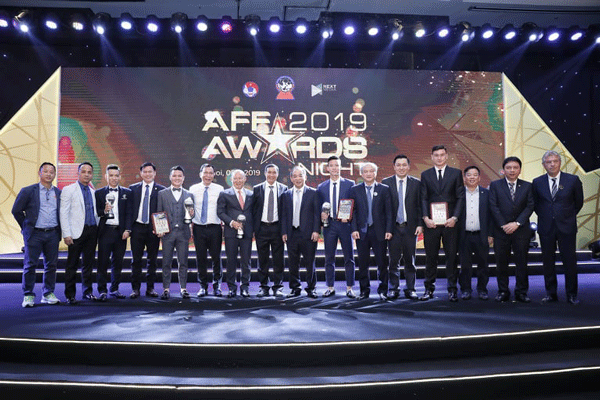 This awards night was attended by representatives of the Ministry of Culture, Sports and Tourism, the General Department of Sports and Physical Training, representatives of the Fédération Internationale de Football Association (FIFA), the ASEAN Football Federation, representatives from the AFF member federations, Vietnam Football Federation , excellent coaches, players, referees of ASEAN football.
Recently years, ASEAN Football has a strong development and closer to the general development of regional and international football, as well as attracted the attention of many supporters. Vietnam has many successes in 2018 and 2019 including become the runner-up of U23 Asian Championship 2018, reached the semifinals of Asiad 18, become the champion of AFF Suzuki Cup 2018, reached the quarterfinals of Asian Cup 2019, won the AFF Women Championship 2019, and the ticket for AFC Futsal Championship. Because of that, Vietnam becomes the most suitable place for AFF Awards 2019.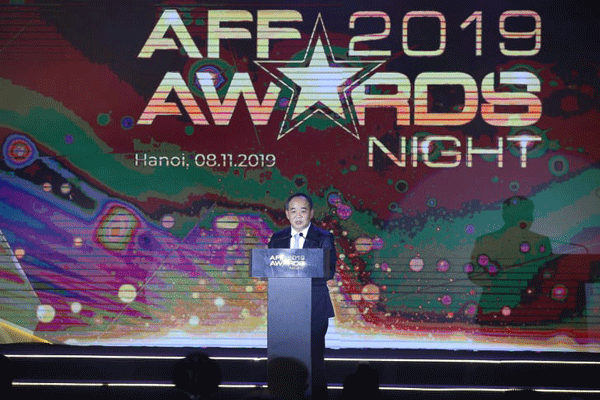 Deputy Minister, VFF President Le Khanh Hai expressed the honor when Vietnam was selected as the venue for the Gala Night of AFF Awards 2019. This is an important event to honor the great values of football. "Whatever the result, all nominees are winners and deserve to be honored. Let's spread the desire to achieve more successes in football and look forward to the general development of regional football". Mr. Le Khanh Hai emphasized.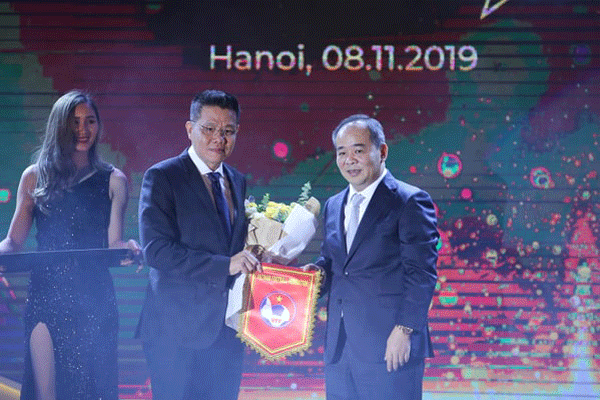 Mr. Khiev Sameth -President of AFF argued that 2019 was a successful year of Vietnam's football, therefore VFF is deserved to host this important event. He also shared that AFF is trying to become the best football federation in Asia. Youth, women's, futsal and beach football tournaments are held continuously, helping member associations to develop in all fields. Since 2020, AFF will hold the tournament for the clubs with the interesting matches for the supporters.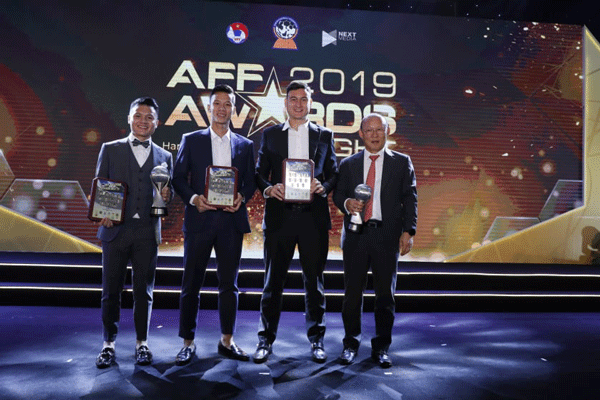 After the solemn opening ceremony, 16 awards are given in honor of the individuals and teams who have excellent achievements during the year. Vietnam received 4 awards including National Team of the Year (Men), Coach of the Year (Head coach Park Hang-seo), Player of the Year (Nguyen Quang Hai), and Futsal Player of the Year (Tran Van Vu). In addition, there are 3 Vietnam's player was named in AFF Best 11 include Dang Van Lam, Que Ngoc Hai, and Nguyen Quang Hai.
ROLL OF HONOUR
AFF Assistant Referee of the Year (Men):Ronnie Koh Min Kiat (Sin)
AFF Assistant Referee of the Year (Women):SupawanHinthong (Tha)
AFF Referee of the Year (Men):Sivakorn Pu-Udom (Tha)
AFF Referee of the Year (Women):Katherine Margaret Jacewicz(Aus)
AFF Youth Player of the Year:Suphanat Mueanta(Tha)
AFF Futsal Team of the Year: Thailand
AFF Futsal Player of the Year:Tran Van Vu (Vie)
AFF Member Association of the Year: Football Association of Indonesia
AFF National Team of the Year (Men): Vietnam
AFF National Team of the Year (Women): Thailand
AFF Best Goal of AFF Suzuki Cup 2018: Muhammad Syahmi Safari (semi-finals against Thailand)
AFF Coach of the Year (Men): Park Hang Seo
AFF Coach of the Year (Women): Nuengrutai Srathongvian
AFF Player of the Year (Men): Nguyen Quang Hai (Vie)
AFF Player of the Year (Women): Pitsamai Sornsai (Tha)
AFF Best 11
Goalkeeper: Dang Van Lam (Vie)
Defenders: Muhammad Syahmi Safari (Mas), Que Ngoc Hai (Vie), Muhammad SafuwanBaharudin (Sin), Korrakot Wiriya-Udomsiri (Tha)
Midfielders: Stephan Markus Cabizares Schrock (Phi), Mohamed Syamer Kutty (Mas), Sanrawat Dechmitr (Tha), Riko Simanjuntak (Ina)
Strikers: Norshahrul Idlan Talaha (Mas), Nguyen Quang Hai (Vie)