AFF Futsal: Vietnam face Malaysia, Thailand meet Myanmar in semis
Hosts Vietnam defeated Myanmar 3-0 today to claim the top spot in Group A of the AFF HDBank Futsal Championship, and in the process set-up an intriguing…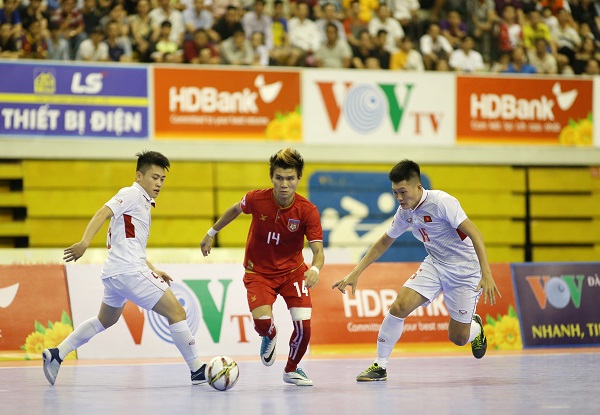 For finishing second in their group, Myanmar will face defending champions and favourites, Thailand in the other semi-final battle on Wednesday.
"We did not play well today. Our defending was not good," said Vietnam head coach Miguel Rodrigo. "So we had to change tactics in the second half and slower the pace. We got two late goals but still we need to improve for the semi-finals."
With their win today, Vietnam completed their four group matches unbeaten and signed off the preliminaries with a maximum 12 points. They earlier defeated Philippines (24-0), Indonesia (4-3) and Brunei (18-0). Myanmar, who have qualified for the AFF Futsal semi-finals for the first time, are second with nine points while Indonesia are third with six points.
Vietnam had a tough first half as the Myanmar players gave them little room. It wasn't until just past the midway point of the first half when Vietnam finally made it through. From a corner kick taken by Tran Van Vu, ace goal-getter Phung Trong Luan moved in and connected a solid drive into the roof of the net. Van Vu had a fine chance minutes from the end but his shot was just off the mark.
Myanmar's defence was solid and their opponents found it difficult to get through. In fact, the Myanmar players were on the offensive and had numerous attempts but failed to get their shots in. In the last few minutes, Myanmar had three misses from Nyein Min Soe, Pyae Phyo Maung (defender) and Pyae Phyo Maung (striker).
With about 20 seconds remaining, and with their players pushing forward, Ngo Ngoc Son intercepted and launched a long shot into an open goal. Myanmar continued to press on and this time, with a few seconds to go, goalkeeper Nguyen Van Huy sent his goal kick in.
"We really wanted to win today so as to avoid playing against Thailand in the semi-finals," said Myanmar head coach Htay Myint. "But Vietnam were in full control of the game and they were just a little bit better than us."
In the earlier match today, Brunei picked up their first win of the tournament after beating the Philippines 5-0 and is now fourth in Group A. Brunei snatched the lead in the fourth minute through Maziri Maidin but were unable to make any further headway after that. The Philippines' defence was steadfast and held their ground.
Four minutes into the second half, Brunei skipper Muhammad Naqib Pg Timbang managed to sneak his shot in. Brunei went on to add on three more from Faiz Hasnan (28th, 39th) and Raimi (33rd).
"The win was very important today because if we had lost, Futsal would be finished in Brunei," said Brunei head coach Mohd Yunos Mohd Yusof. "Now we have to go back to the drawing board and draw a new programme for Futsal in the country."
The group stage matches concluded today. The competition breaks for a day before resuming on Nov 1 for the semi-finals. The final is scheduled for Nov 3. For the record, the four semi-finalists in the AFF event here have automatically qualified for the Asian Futsal Championships in Chinese Taipei next year.