VFF officially announced a contract extension with Head coach Park Hang-seo
Hanoi 7/11, the ceremony to announce the contract extension between the Vietnam Football Federation (VFF) and coach Park Hang-seo was held at the office…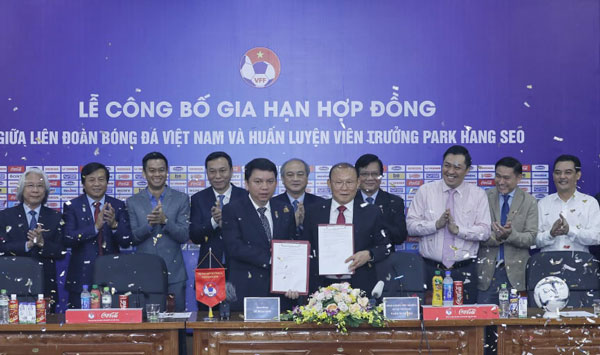 This ceremony has the attending of Mr. Vuong Bich Thang – Director General of General Agency of Sport, Mr. Tran Quoc Tuan – Permanent Vice Chairman of VFF, Mr. Cao Van Chong – Vice Chairman, Mr. Tran Anh Tu – Member of the Executive Committee, Mr. Le Hoai Anh – General Secretary, Mr. Nguyen Sy Hien – Chairman of the National Coaching Council, Mr. Juergen Gede – Technical Director of VFF, and the current head coach of Vietnam National Football Team Mr. Park Hang-seo.
The ceremony also had the presence of members of the Vietnam Football Federation Executive Committee in Hanoi, representatives of the departments, representatives of the units under the VFF, the member of Secretary-General Department, and the representative of the men and women national team, leading the departments of VFF and numerous representatives of the domestic and foreign press agencies.
As the representative of VFF, General Secretary Le Hoai Anh said that this contract is the result achieved based on the high consensus between VFF and Head coach Park Hang-seo for the development of Vietnam Football: "VFF believes that, with the prestige, dedication, talent, and ability to be affirmed in the two years of working in Vietnam, Coach Park Hang-seo can continue to promote the strength of Vietnam national football team to compete for new achievements, to meet the expectations of the supporters".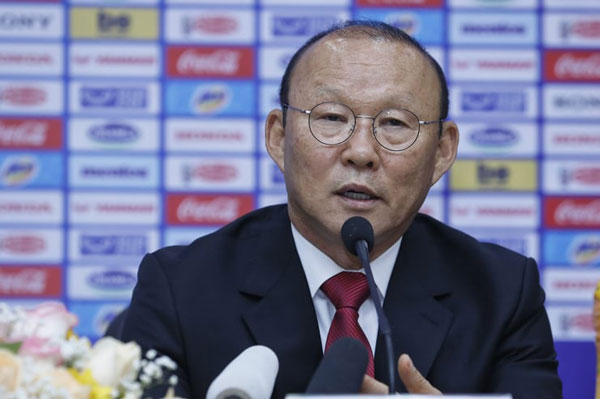 Head coach Park Hang-seo shared: "I am very happy in this 2 years working in Vietnam. 2 years have passed, we have achieved some successes as well as on the way to complete other goals. Although there are some limitations, I still felt very happy. At this moment, I felt more and more responsible. Thanks to the achievements in the tournaments, my players have developed and ready to compete in international football. They have a huge patriotism and feel proud when wearing a national team's shirt".
After the success of Vietnamese football in 2 years, Head coach Park Hang-seo has received great expectations when signs the new contract. He argues: "I always keep my efforts from the first day I come to Vietnam. Until now, the expectation of the supporters with football is higher. Maybe in the coming years, this expectation will be even higher than now. I am ready for this expectation and will try my best to complete my responsibility. We will continue to follow many domestic tournaments, discover new players to help our football system become more stable. We also try to guide the national team and the Olympic team to become more dynamically".
Coach Park Hang-seo also shared: "Before I make the decision, I also thought a lot. Many people advised me to take a break. But Vietnamese supporters are expecting. I do not know if I can satisfy the expectation of supporters. Many times I confused that this is the last contract with VFF or not. I as well as Vietnamese coaches and Korean coaches will continue to prepare for new challenges. I receive a lot of support from VFF. I know Mr. Tran Quoc Tuan – Permanent Vice Chairman of VFF has spoken a lot with my representative. I have to say that I am very proud of my work. "
Currently, Mr. Park is working with the Vietnam National Team to prepare for two matches against UAE on November 14 and Thailand on November 19, 2019. He is also guiding the U22 Vietnam towards the championship at SEA Games 30, taking place in the Philippines at the end of November.