Hà Nội draw with Bình Dương in V.League 1
Defending champions Hà Nội FC drew 2-2 with former champions Bình Dương in the eighth round of the V.League 1 yesterday.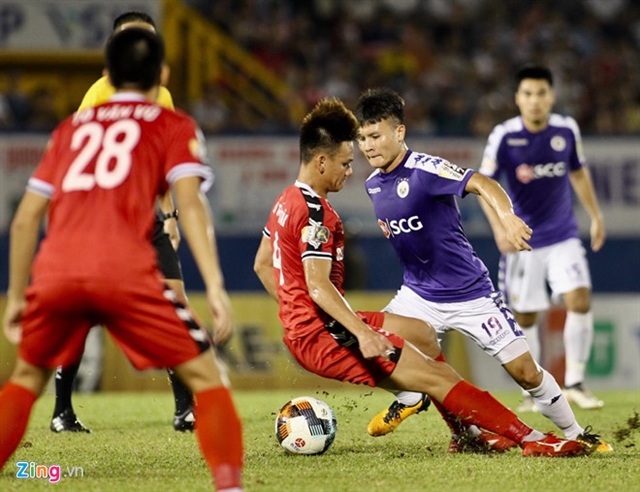 The game was held at the Gò Đậu Stadium in the southern province of Bình Dương.
Bình Dương took a 2-0 lead, but were pegged back and had to settle for a draw in added time.
Nguyễn Thành Chung the point for his side in the 95th minute, taking full advantage of agoalkeeping error to send the Hà Nội fans wild.
The match was not without incident. In just the third minute, a clash between Nguyễn Hoàng Thiện Đức of Bình Dương and Omar Faye of Hà Nội left Đức unconscious and he was rushed to hospital.
Shortly after, Wander Luiz Queiroz Dias defeated goalie Nguyễn Văn Công to score the opener for the hosts.
Several minutes later, thanks to a pass from striker Nguyễn Anh Đức, Tô Văn Vũ increased the score to 2-0.
The visitors responded and reduced the margin through Ganiyu Bolaji Oseni before half time.
After the break, Hà Nội came out looking for the equaliser, but their hosts remained stubborn in defence.
Bình Dương seemed to be heading for the win, but then Chung struck.
At the Pleiku Stadium in the Central Highlands province of Gia Lai, Hoàng Anh Gia Lai (HAGL) defeated Nam Định 2-0.
HAGL controlled the game from the opening whistle, but Nam Định were quick to respond.
HAGL had several chances to open the scoring, but luck was on their side in the 39th minute. Receiving a spectacular pass from Trần Minh Vương, Chevaughn Walsh defeated goalie Đinh Xuân Việt of Nam Định.
HAGL fans were on their feet again when Trần Minh Vương beat two midfielders and Việt to double the score for the hosts.
Nam Định made changes, but it wasn't enough to alter the scoreline.
Elsewhere, Đà Nẵng beat Quảng Ninh Coal 1-0, Sài Gòn beat Hải Phòng 1-0, and Viettel drew goalless with Sông Lam Nghệ An.
Today, Khánh Hòa will meet HCM City.