Regional win expected to push Việt Nam in SEA Games title defence
The national women's football team has been welcomed home as heroes after they won the ASEAN Football Championship for the third time in Thailand.
Fans are hoping their triumph will provide a strong push for the team in their quest to defend their title at the 30th Southeast Asian Games in the Philippines later this year.
"The team played a good tournament, especially the final match against Thailand," said Trần Đức Phấn, deputy head of the National Sports Administration.
"It was a dramatic and attractive game until the last seconds.
"I appreciated the team's spirit and determination to overcome big challenges to bring home the trophy. It will help them a lot to get the highest position in the Philippines."
Việt Nam recorded a perfect three wins in the group stage, beating Cambodia 10-0, Indonesia 7-0 and Myanmar 4-0. In the semi-finals, they won 2-1 over the Philippines who have naturalised players in their team. In the final, Việt Nam beat arch-rival Thailand, who were one of the participants in the World Cup in France in July, 1-0 in the extra time. They played with only 10 women for the last 20 minutes.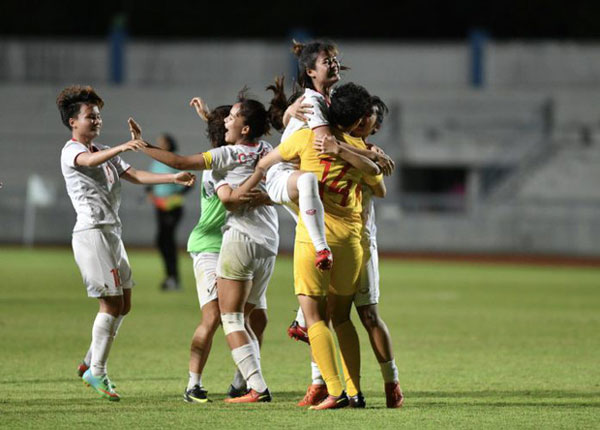 It was Việt Nam's fifth win over Thailand in different competitions from the club to the national team level.
The Thai team is also one of title favourites at the upcoming SEA Games in the Philippines.
"It was great feeling beating Thailand on their home turf," head coach Mai Đức Chung told reporters at Nội Bài International Airport on Wednesday. "The win not only pleased local supporters but also made my players more confident for when they face Thailand and for the coming SEA Games."
Chung, 69, has won three SEA Games titles, but this was the first time he won the ASEAN Football Championship, which he said was a milestone in his career.
Việt Nam Football Federation Vice President Trần Quốc Tuấn was proud of the victory. He said the win showed the young players had grown up and they could take over the responsibility from their seniors to defend the SEA Games crown.
After winning the 2017 Games, experienced players such as midfielder Vũ Thị Nhung and goalkeeper Đặng Thị Kiều Trinh retired. Their positions were successfully filled by young teammates such as goalkeeper Trần Thị Kim Thanh, midfielder Thái Thị Thảo and striker Lê Thu Thanh Hương.
Chung, however, still thinks there is room to introduce more young players ahead of the SEA Games.
"We are temporally standing higher than Thailand but in fact we have not overcome them in general," he said. "They have a higher level of technique. We beat them (in this tournament) due to our unity and determination.
"For the long-term strategy, we must work harder to build up a strong foundation and focus on youth training activities. The first step is to develop football and then we can enjoy sweet results," he said.
The coach also shared the news that some of his players are being eyed by foreign scouts.
"Many foreign clubs have kept their eyes on Vietnamese players. Sparta Praha of the Czech Republic and some Japanese clubs have invited defender Chương Thị Kiều for a trial. Meanwhile, midfielder Nguyễn Thị Tuyết Dung, striker Huỳnh Như and defender Trần Thị Hồng Nhung also received trial offers," said Chung, who believes this foreign interest can be a strong push for the nation.
Players will return to training with their clubs for the second period of the National Championship from September 13 to October 4 in Hà Nam Province.
They will take part in the next national team training camp after the tournament in Hà Nội.
"I have discussed with the coaching board about the plans for the SEA Games," said Chung, who is planning a trip to Japan to sharpen his players' skills. "About 30 players will be called. Among them I want to pick about six from the U19 squad."