Bình Dương beat Sài Gòn FC at V.League 1
Former national champions Bình Dương defeated Sài Gòn FC 1-0 in the ninth match of the V.League 1 yesterday.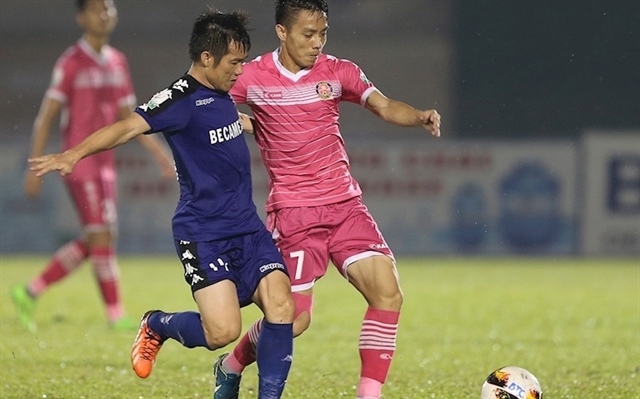 The game was held at the Gò Đậu Stadium in the southern province of Bình Dương.
Following the draw with defending champions Hà Nội last round, Bình Dương played at home so they were determined to take three points in this match.
They controlled the game and created several dangerous situations in the first half. But chances were rushed and they failed to find the net.
After the break, Bình Dương and Sài Gòn FC both played with far more caution.
In the 71st minute, after receiving a pass from striker Nguyễn Anh Đức, Văn Vũ defeated goalie Văn Hoàng but the ball then hit the bar.
Ten minutes later, the hosts launched a counter attack from the right wing and Victor Mansaray found the opener.
The visiting side then fought back strongly but they couldn't beat the defence line of Bình Dương.
Bình Dương have 11 points and sit seventh out of 14 teams. Meanwhile Sài Gòn FC are in fourth place with 14 points.
Today line up sees Thanh Hóa vs Hà Nội FC, Nam Định vs Quảng Ninh Coal and HCM City to take on former champions Quảng Nam.
The match with defending champions Hà Nội FC will be a challenge for Thanh Hóa as the capital team haven't lost this season. They are in second position with 18 points, behind HCM City with 19 points. While Thanh Hóa come to 11th place with seven points.
To encourage his team, boss Nguyễn Văn Đệ announced if Thanh Hóa bring home a win, they will receive a bonus of VNĐ500 million (US$21,700).
Tomorrow, all eyes will focus on the match between Viettel and mountainous football team Hoàng Anh Gia Lai (HAGL) at the Hàng Đẫy Stadium in Hà Nội.
After one draw and one win, favourites HAGL are eager to face rookie Viettel. HAGL will be without defender Vũ Văn Thanh who had been sidelined due to injury.
Elsewhere, Đà Nẵng will face Sanna Khánh Hòa and Hải Phòng play with Sông Lam Nghệ An.