Việt Nam's World Cup dream ends after 0-2 defeat
Việt Nam's World Cup U20 adventure ended Sunday after they lost 0-2 to Honduras in the last match of Group E in Jeonju, South Korea.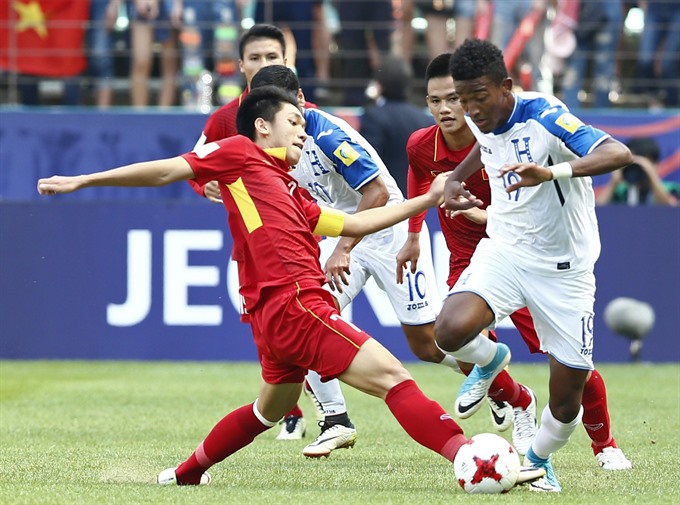 Douglas Martinez (right) of Honduras vies for the ball with Nguyễn Trọng Đại of Vietnam during the group stage match of the FIFA U-20 World Cup 2017 between Honduras and Vietnam in Jeonju, South Korea, 28 May 2017.

Honduras finished on a high note, leaving the second-round tickets to France and New Zealand, who ranked first and second, respectively.
Việt Nam started their game with the hope of making it to the next round in case they beat Honduras.
Việt Nam received strong support from fans who made the Jeonju World Cup Stadium their home turf, sporting red T-shirts with yellow star to match Việt Nam's national flag.
The only representative from Southeast Asia, Việt Nam attacked right from the start. With better ball possession and opportunities, Việt Nam managed to put pressure on Honduras keeper Michael Perello in the first 15 minutes, but failed to convert their chances.
Striker Nguyễn Tiến Linh, who was playing his first match, missed a scoring opportunity when he poorly managed the ball in front of the keeper and failed to make a shot.
Việt Nam's diminutive players suffered many fouls from Honduras' taller and stouter rivals during their match. Striker Đinh Thanh Bình who was in pain after one such foul at the 31st minute was replaced by Trần Thành. The 19-year-old burst into tears on the way to the bench, having to leave the field midway.
The second half saw better performance from Honduras.
Substitute Sendel Cruz and Jorge Alvarez scored the first goals for Honduras in the tournament. Cruz scored in the 76th minute with a close-range finish, while Alvarez netted in stoppage time, firing a low shot past Vietnamese goalkeeper Bùi Tiến Dũng.
In the 85th minute Việt Nam nearly bagged an equaliser, but Nguyễn Quang Hải's effort only rattled the post, before Alvarez sealed the result beyond doubt.
With only a point from the tournament after a draw with New Zealand on Thursday, Việt Nam are at the bottom of the group. They failed to score and suffered six goals. Honduras are a notch higher with four points.
"We are sad. We could not spring a surprise, although we had our chances," said midfielder Lương Hoàng Nam.
"This failure is a big lesson for us. It will help us grow stronger and better in the future," he said.
Coach Hoàng Anh Tuấn, however, remained upbeat.
"We were really good in the first half, but we were in a hurry to score our first goal of the World Cup. The players were a bit tired in the second half, and this resulted in inaccurate finishes. Also, Honduras played the high ball, which is our weakness. They had sharp counter-attacks that led to our defeat," Tuấn said at the post-match conference.
"It is alright, I am not sad but proud of my team. They played with great spirit, although we could not achieve our target of winning a point, or a big win over Honduras," Tuấn added.
"We came here as the weakest team, being at a lower level than others. We have been eliminated, but we have learnt many things. These players will form the core to build a strong football team in the future.
"Ịt will be not easy to qualify for the World Cup, but we will keep dreaming and hope to be back soon," he said.
In the other match, France beat New Zealand 2-0 with Allan Saint-Maximin's double in the first half, completing their hat-trick in the group phase.
France set up a re-run of last year's UEFA European U19 Championship 2016 finals with Italy in the round of 16. New Zealand qualified for the next round, too, and will face the eventual victors in Group F.