Việt Nam make history with first point in World Cup
History has been made for Việt Nam and the Southeast Asian region in the South Korean FIFA U20 World Cup.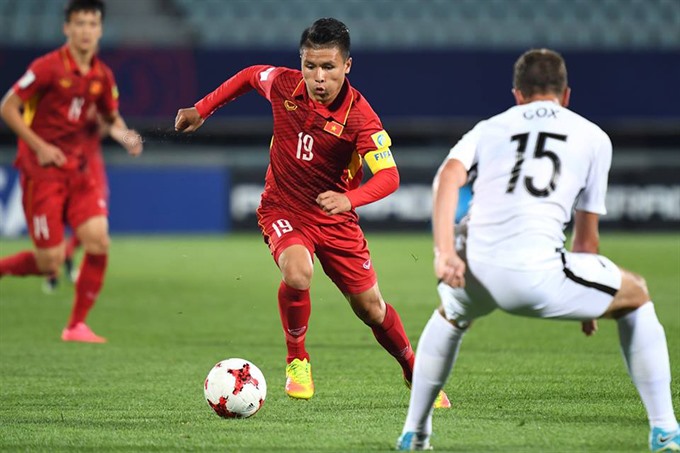 Captain Nguyễn Quang Hải of Việt Nam (left) tries to pass Kiwi player Reese Cox during their U20 World Cup in South Korea yesterday. — VNS
Việt Nam earned their first ever point after a 0-0 draw with New Zealand in Cheonan City on Sunday, to begin their campaign on a bright note.
Full of energy, Việt Nam was clearly up for the occasion. The team maintained the high pace of the game and created a number of chances in the first half, which kept New Zealand on their toes.
The World Cup debutants got Kiwi keeper Michael Woud into action twice in a minute. First, they denied Đoàn Văn Hậu from a distance, before scrambling to claw away Nguyễn Quang Hải's cheeky attempt directly from a corner.
It seemed that Cameroonian referee Sidi Alioum refused a penalty to Việt Nam at the 37th minute when Reese Cox let a ball touch his hand in the box.
After the break, Việt Nam continued to be more inspired but their high-energy exploits saw batteries begin to drain and New Zealand began to find pockets of space higher and higher up the field. As the clock wound down, there was still a chance for Việt Nam to snatch a historic win, but Nguyễn Hoàng Đức blazed over as he arrived at the far post.
Captain Hải and midfielder Đức told reporters that Việt Nam would definitely win if the two teams meet again in the future.
"I am proud of my team and want to say thanks to (more than 10,000) supporters. I am surprised because so many people came to encourage us. Hope they will follow us in the next matches," coach Hoàng Anh Tuấn said after the match.
"Some mistakes were made and players could do much better. If we could get three points today, things would have become easier. But it is an important point for us, which strongly pushes us up in this challenging tournament," said Tuấn, adding that it was normal when opportunities were wasted in football, and now his team would focus 100 per cent for the game versus France on Thursday.
On the other side, coach Darren Bazely of New Zealand said he was disappointed but one point was a good start for his team. He said he was not surprised by how good the Việt Nam players were as they have good technique.
In the earlier match of Group E, tournament favourites, France, eased to a 3-0 victory over Honduras. Ludovic Batelli's side could have been in front inside five minutes had Honduras keeper Javier Delgado not been alert to Jerome Onguene's header, but it only delayed the European champions by 10 minutes, with Jean-Kevin Augstin slamming home a free-kick from about 20 metres.
Amine Harit struck the second goal one minute before the interval. Martin Terrier made no mistake to seal the fate of the game with 10 minutes to go.