VN to play Chinese Taipei at AFC U19 qualifier
Việt Nam will play host Chinese Taipei in the second round match of Group H at the Asian Football Confederation U19 Championship 2018 qualifier today.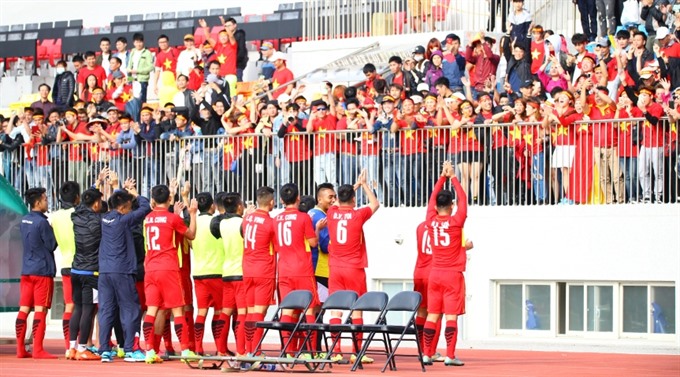 Vietnamese players tribute their supporters after beating Macao 2-0.
Both teams won their first match, with Việt Nam beating Macao 2-0 and Chinese Taipei defeating Laos with the same score.
Lê Minh Bình netted a double for Việt Nam in a match where coach Hoàng Anh Tuấn said his players still made simple mistakes and did not strictly follow his tactics. Việt Nam are in the second position in the ranking.
In a later match, Fong Shao-chi brought cheer to Chinese Taipei when he found the net in the 68th minute. Wand Chung-yu then made it 2-0 just four minutes later to ensure a winning start for the hosts.
Chinese Taipei, who top the group, will next face Macao at the Hsinchu County Second Stadium.